Regular price
Sale price
£27.97
Unit price
per
Sale
Sold out
No Questions Asked Refunds

Any purchase with Ketosource is covered by our premium quality guarantee. Not happy, get your money back. Just reply to your order email or call and let us know you'd like a refund. No questions asked.
Save 10% with a Monthly Subscription

You save 10% on monthly subscription. Your order will rebill and reship every 30 days if you select this option.
You're In Control. Cancel Monthly Subscriptions Anytime.

Your subscription is all up to you. Cancel or change delivery frequency anytime in your account's subscription management. Or contact the team and they will  take care of it for you. Never get surprised with pre-payment email reminders before each delivery.
Size Format: Each Bar 60g
Safe For: GMO Free, Dairy Free, Gluten Free, Paleo, Vegetarian
Have a Question About Ketosource Ketone Bar?
Our keto and fasting experts are here to answer any questions you might have.


WHAT IS KETOSOURCE KETONE BAR?
The Ketone Bar is the first snack bar in the world that has been designed and tested to:
Increase blood ketones (Beta-hydroxybutyrate)
Have zero glycemic impact (it does not raise blood sugar) and often will lower blood sugar
Is 100% ketogenic (has been tested to not interfere with your diet, but support it)
HOW KETONE BARS WORK
Ketone bars contain no glycemic ingredients, are moderate in protein and contain high amounts of fat.
In addition, ketone bars contain Pure C8 MCT oil and Pure C8 MCT Powder which contain C8 MCT that converts into ketones via the liver. As a consequence, the bars not only have no glucose response (i.e. are 100% ketogenic), but they also boost ketones.
This provides a quick and direct energy source from ketone metabolism and the other various benefits of ketone-bodies.
HOW KETONE BARS DIFFER TO OTHER SIMILAR PRODUCTS
Ketosource Ketone Bars are unique because they are designed and tested to increase blood ketones.
Similar products would be Low Carb bars like Grenade Carb Killa Bars and Quest Bars. However, these bars are high protein, which is not ketogenic. As a result, despite being low carb, these bars tend to spike blood glucose and as a result, are not ketogenic.
Other similar products are ketogenic bars. There are a few of these available currently. The best-recognized one is the KetoBar. These are designed to be ketogenic, but don't increase blood ketones.
Note: You should test bars that state they are ketogenic yourself since we've found that these statements often don't hold true. 
WHO ARE KETONE BARS SUITABLE FOR?
Ketone Bars are suitable for consumption for you if you in the following situations:
Use as a meal, snack or carb replacement. Since the Ketone Bar boosts ketones, this reduces hunger and helps curb any carb or hunger cravings.
Ketogenic or low-carb dieters who want easy snacks that are 100% ketogenic compliant that they can use when at work or traveling
People who are new to the ketogenic diet and want to increase ketosis or ease their way into ketosis
People looking to increase cognitive performance through ketone fuelling and metabolism (note: aiming for 1.5 to 3 mmol is considered a good blood ketone range to aim for)
CUSTOMER FEEDBACK
Great Taste & Texture: Customer feedback since release describes these bars as 'lush', 'delicious', and 'amazing'.
MANUFACTURING & PACKAGING INFORMATION
Ketosource Ketone Bars are GMO-free, gluten-free, dairy-free and paleo and vegetarian compliant.
The oil has also been screened for heavy metal and pesticide residues.
You can purchase either in single bars (trial size) or in boxes of 12.
Ketosource Ketone Bars have been designed to use a minimum of ingredients and only ingredients that are beneficial to the body based on current research.
Ketone Bars contain no artificial sweeteners that damage the gut and include specific types of fiber that have beneficial effects on the gut (acacia fiber, chicory root fiber). 
View full details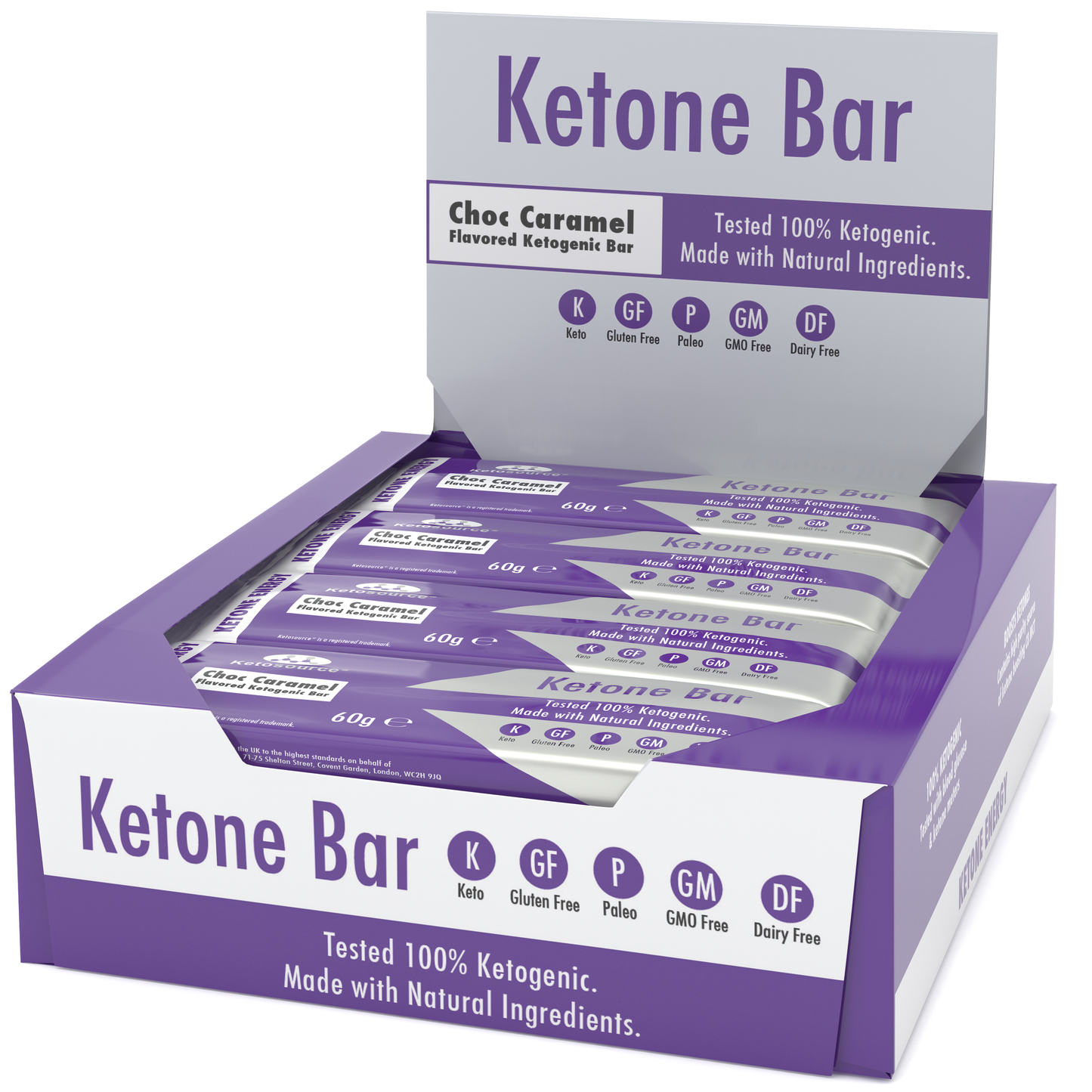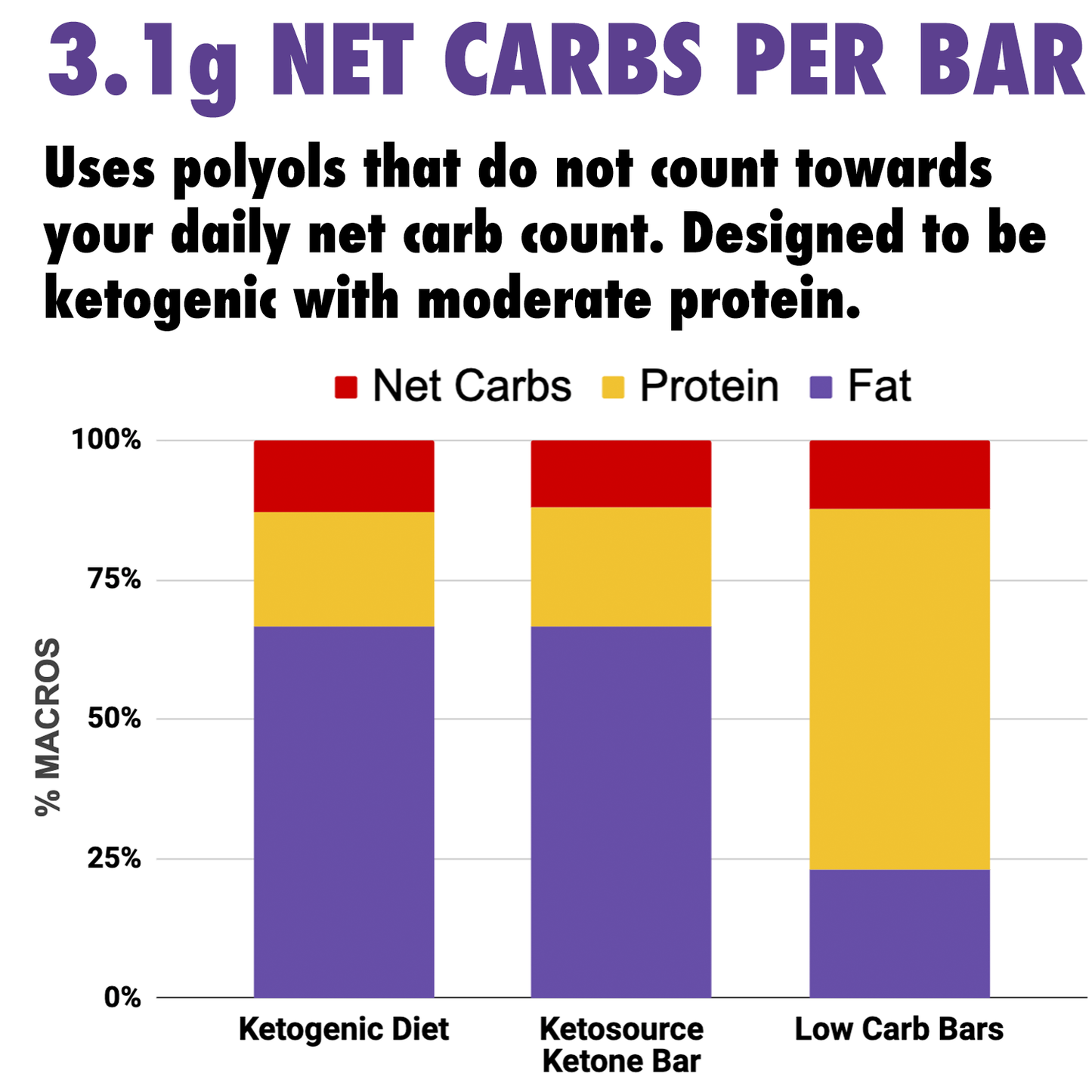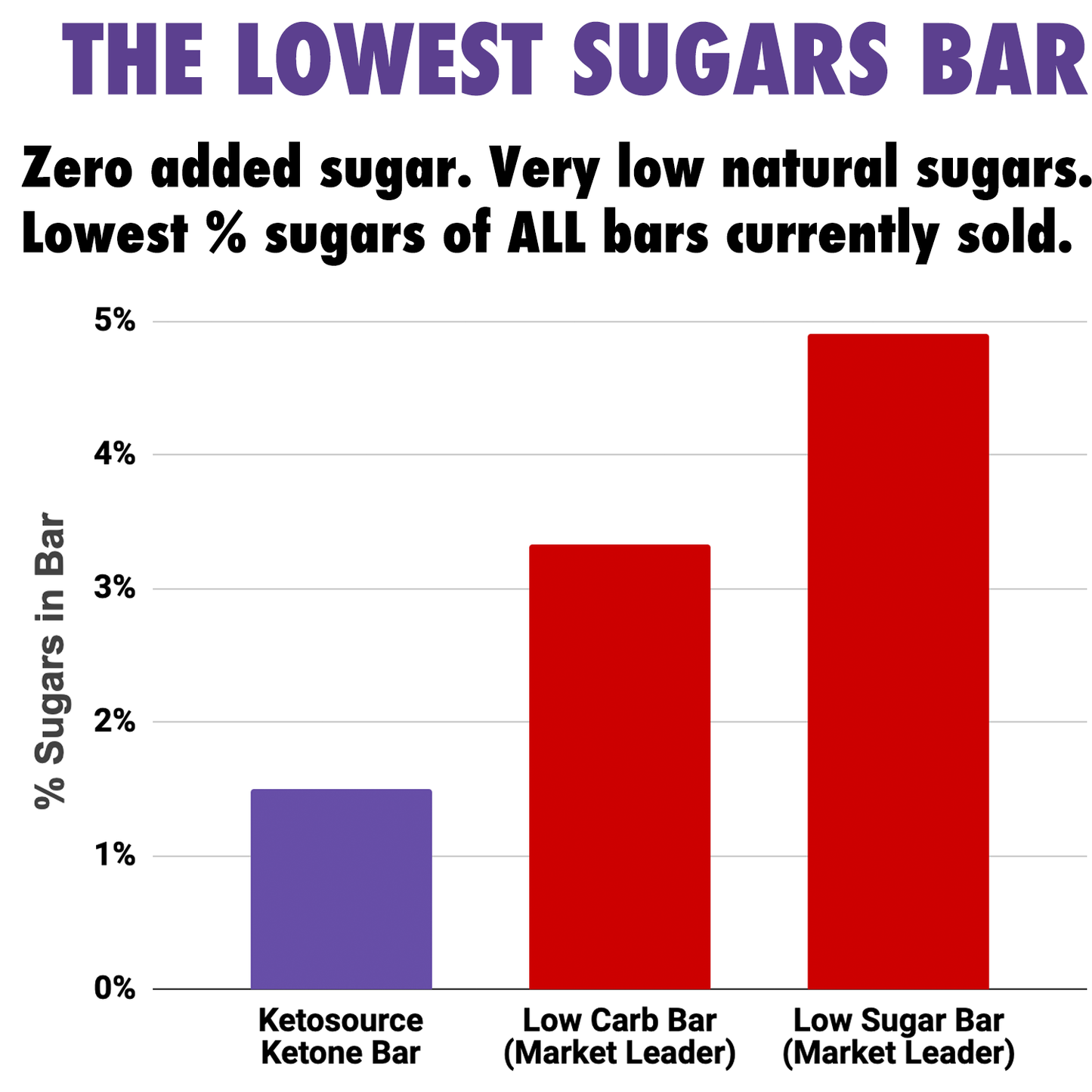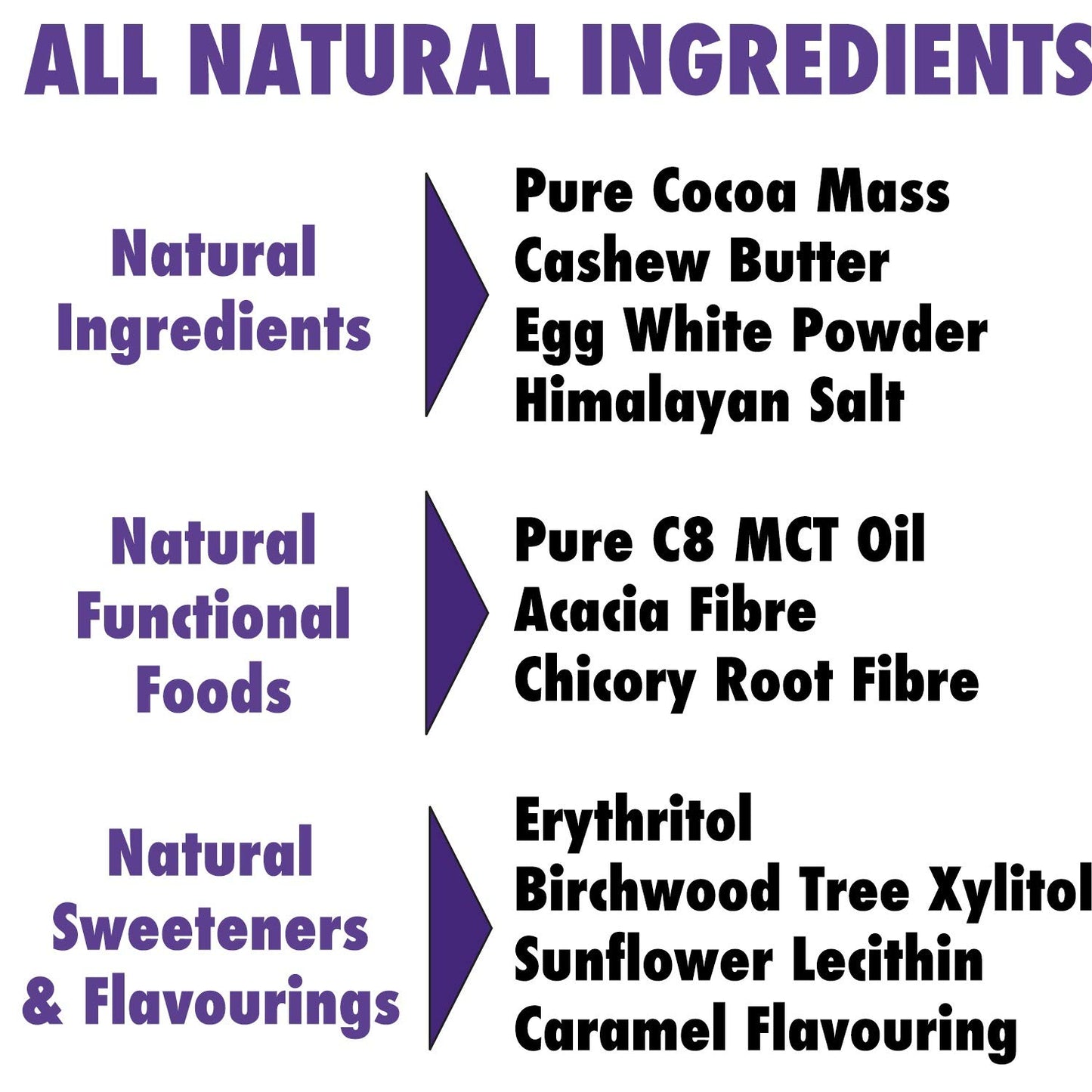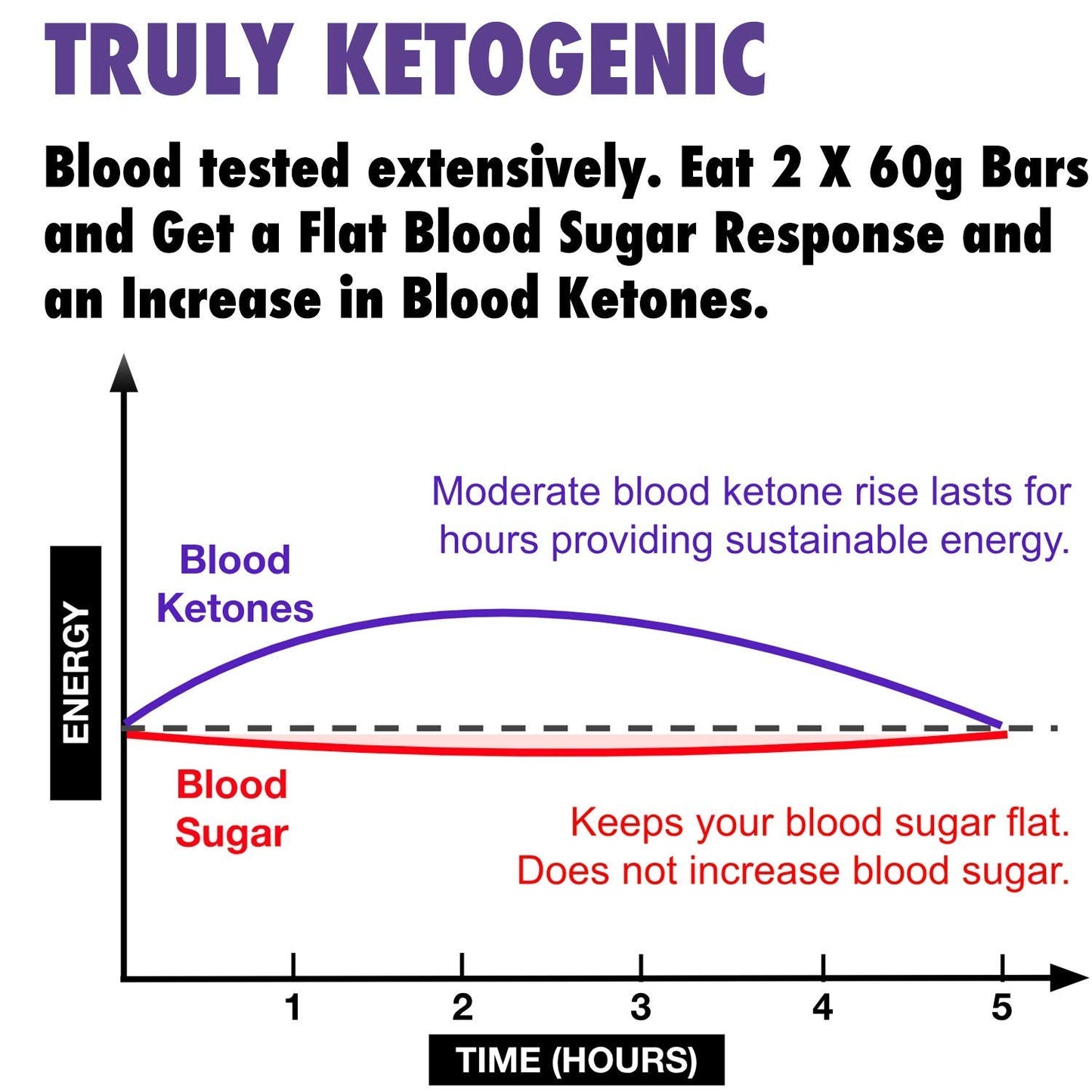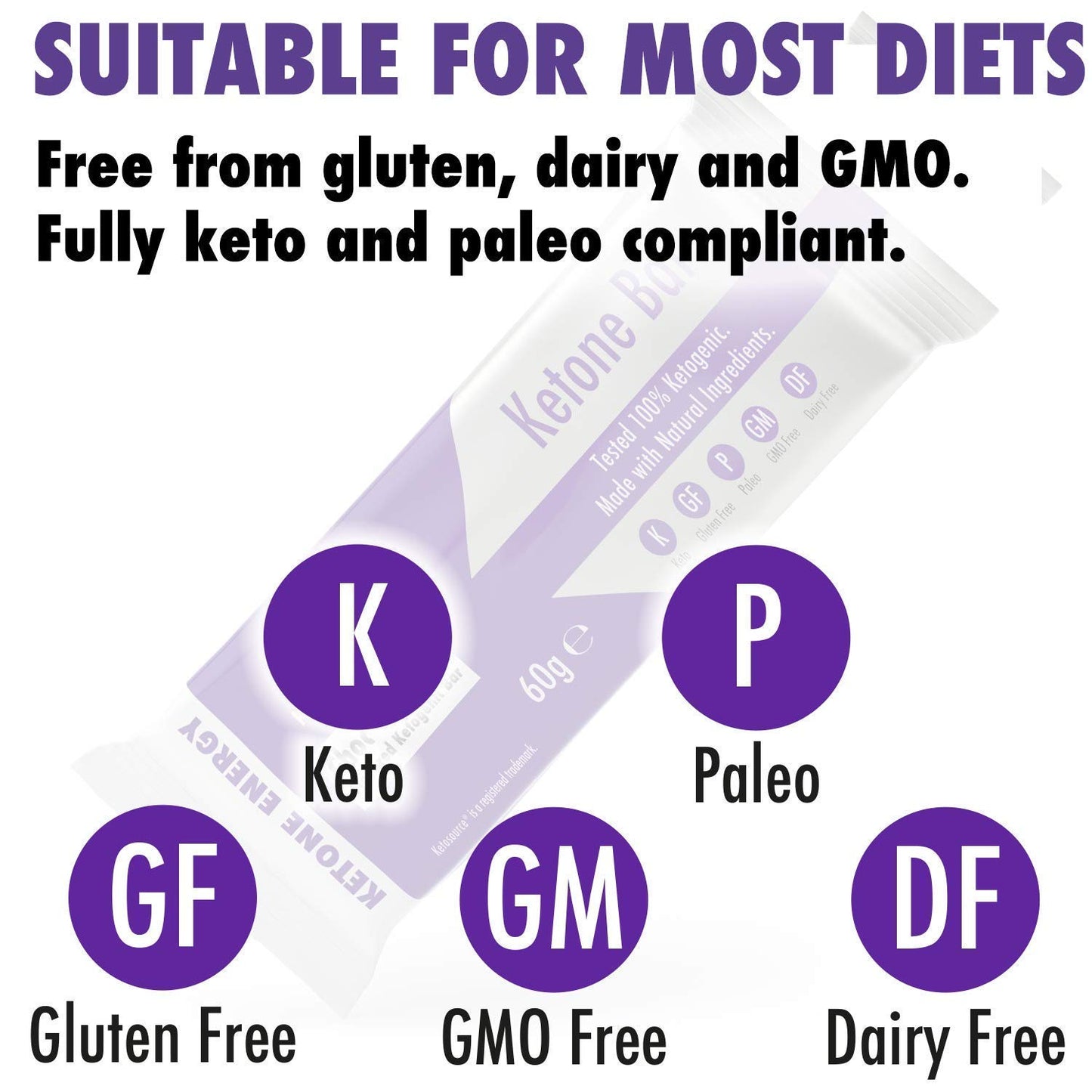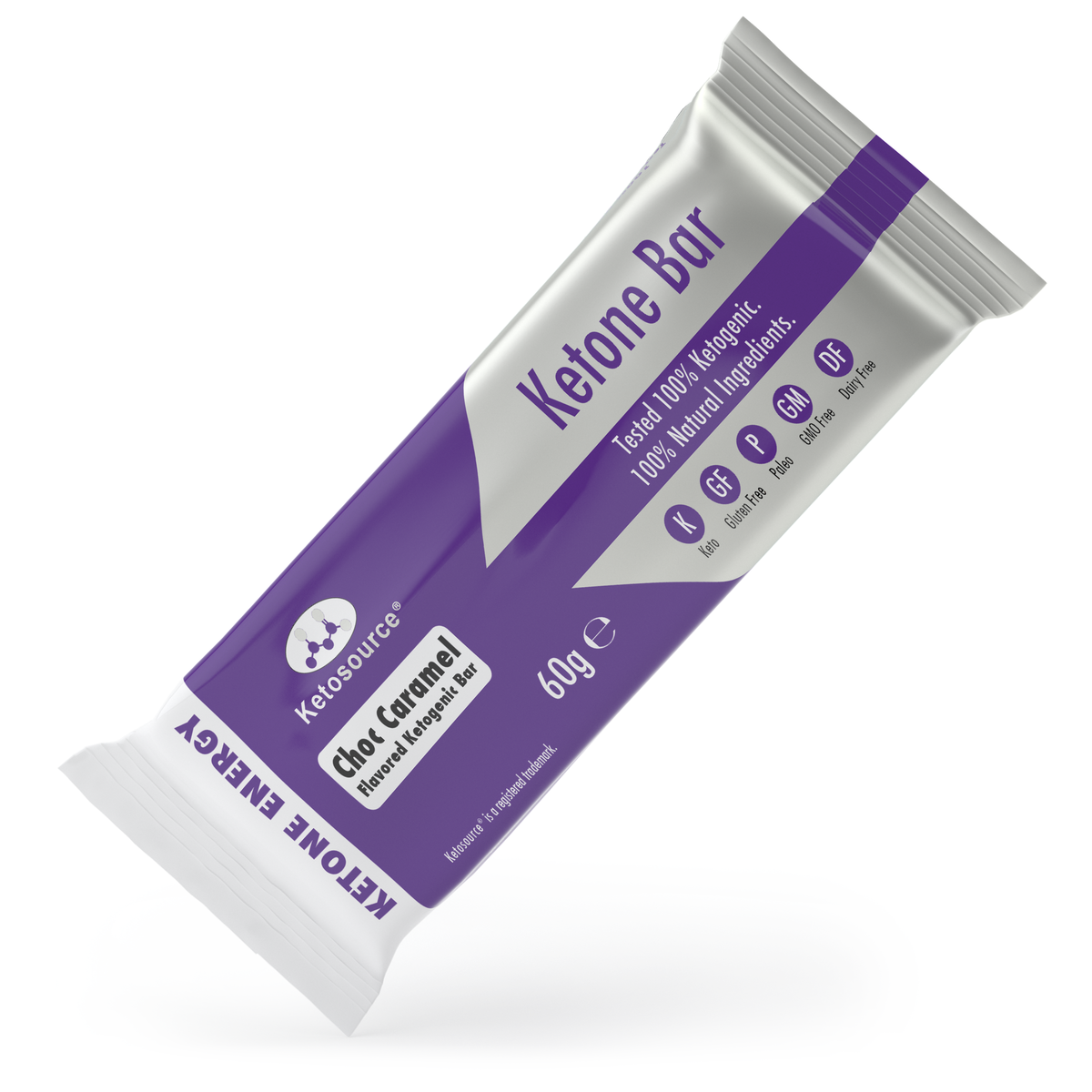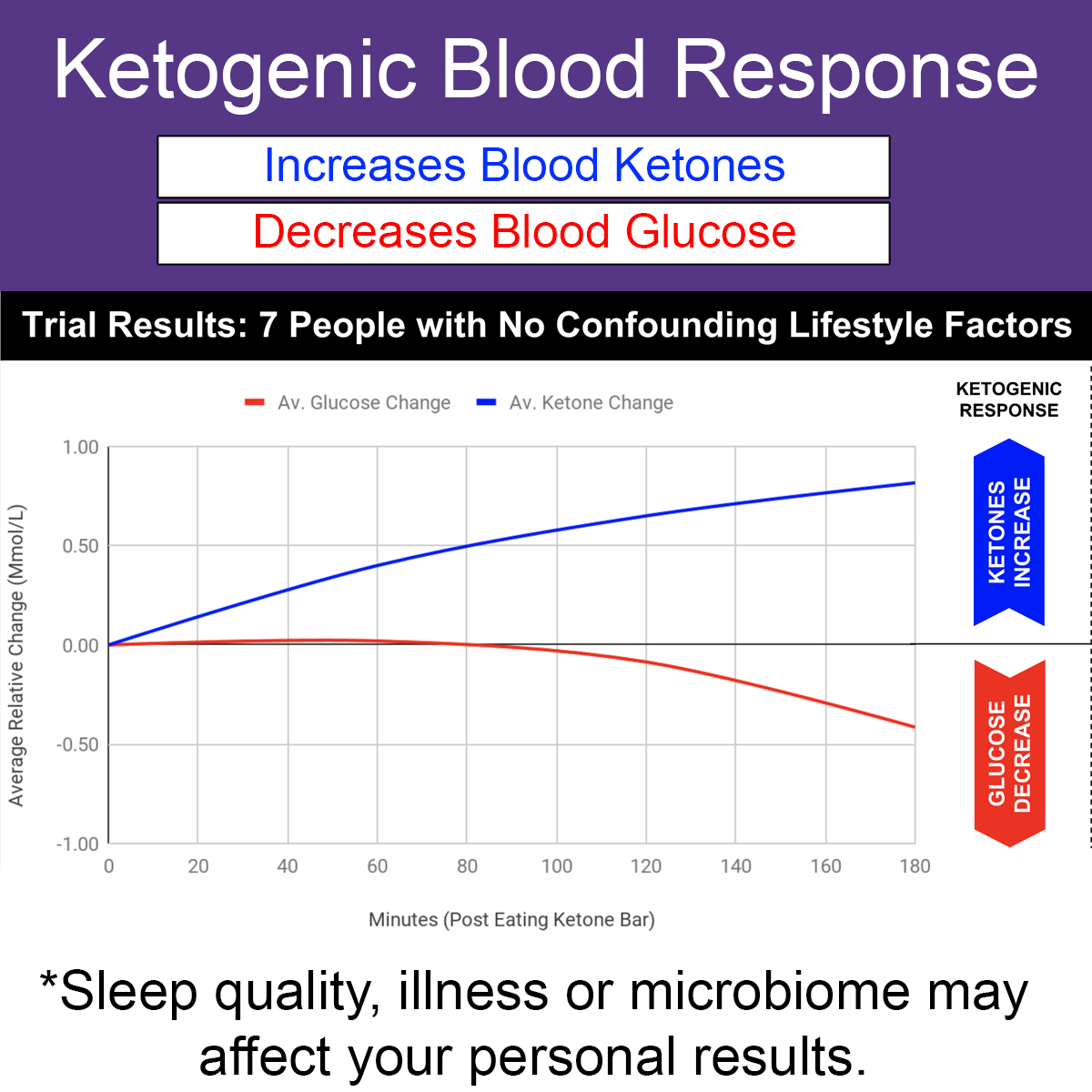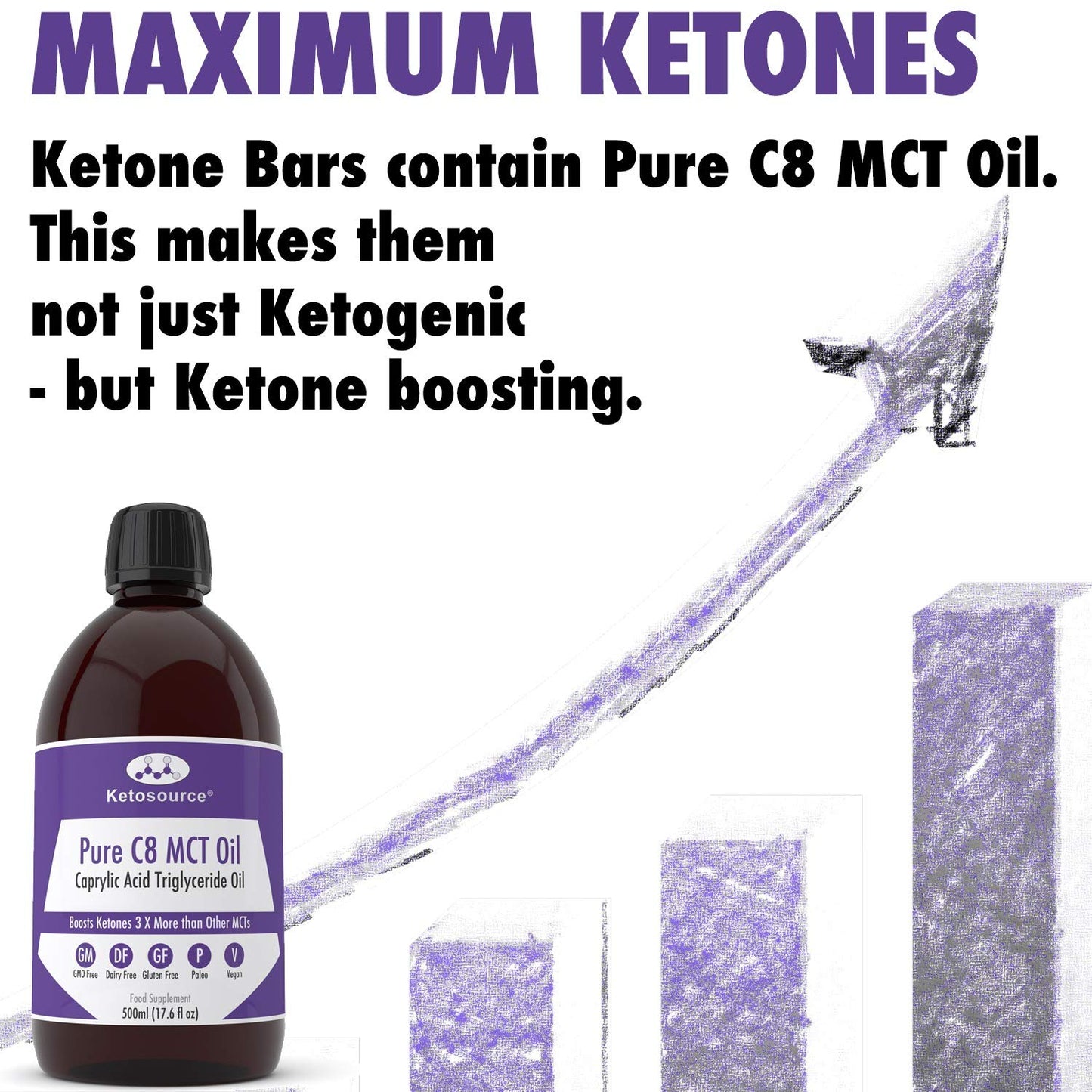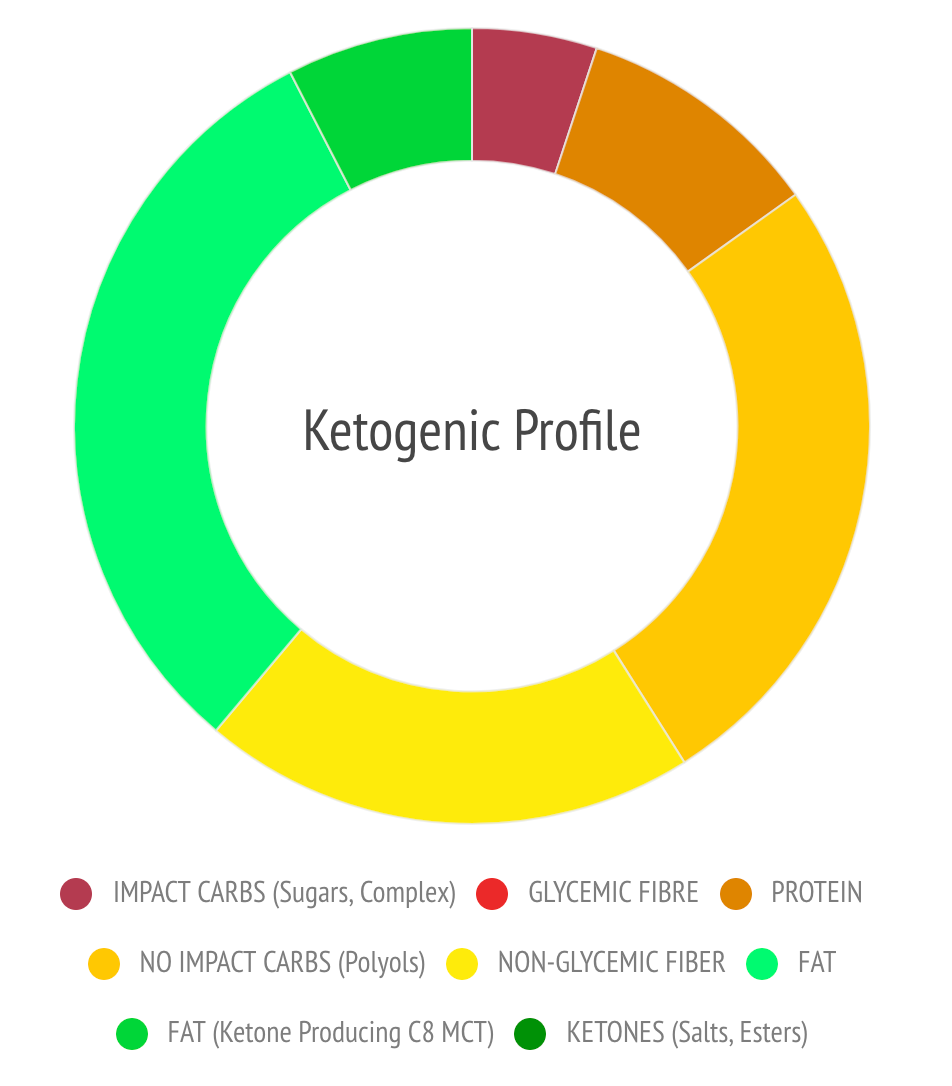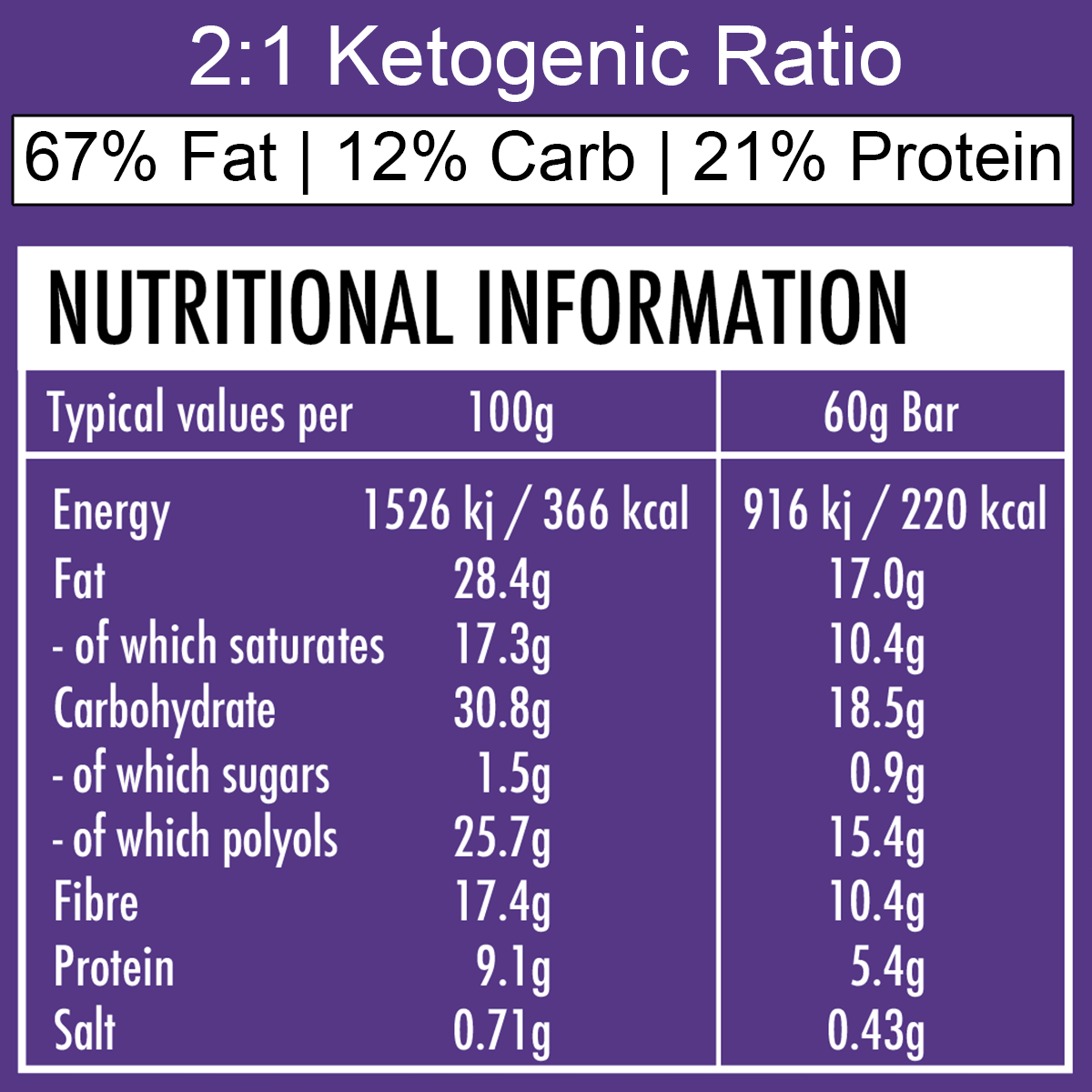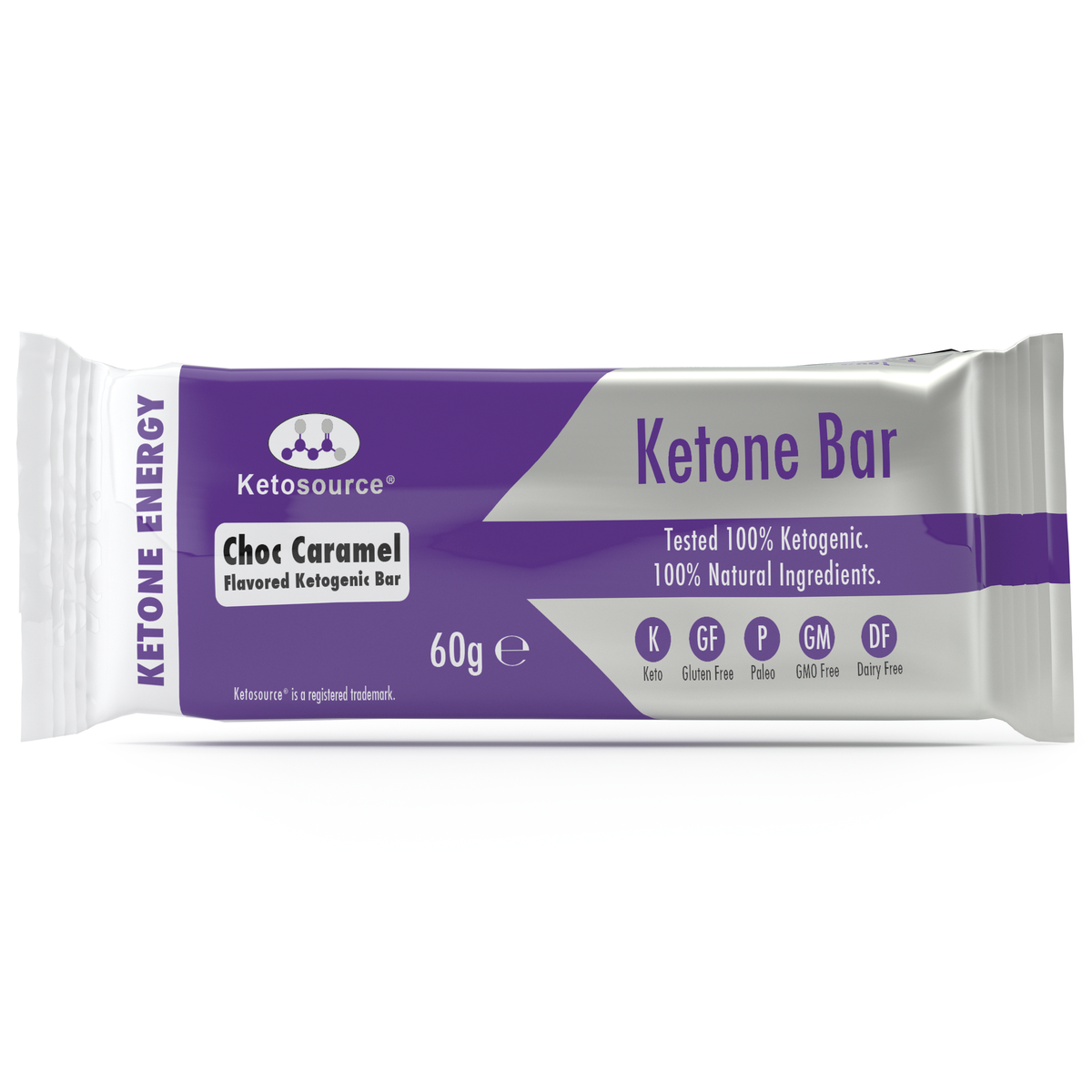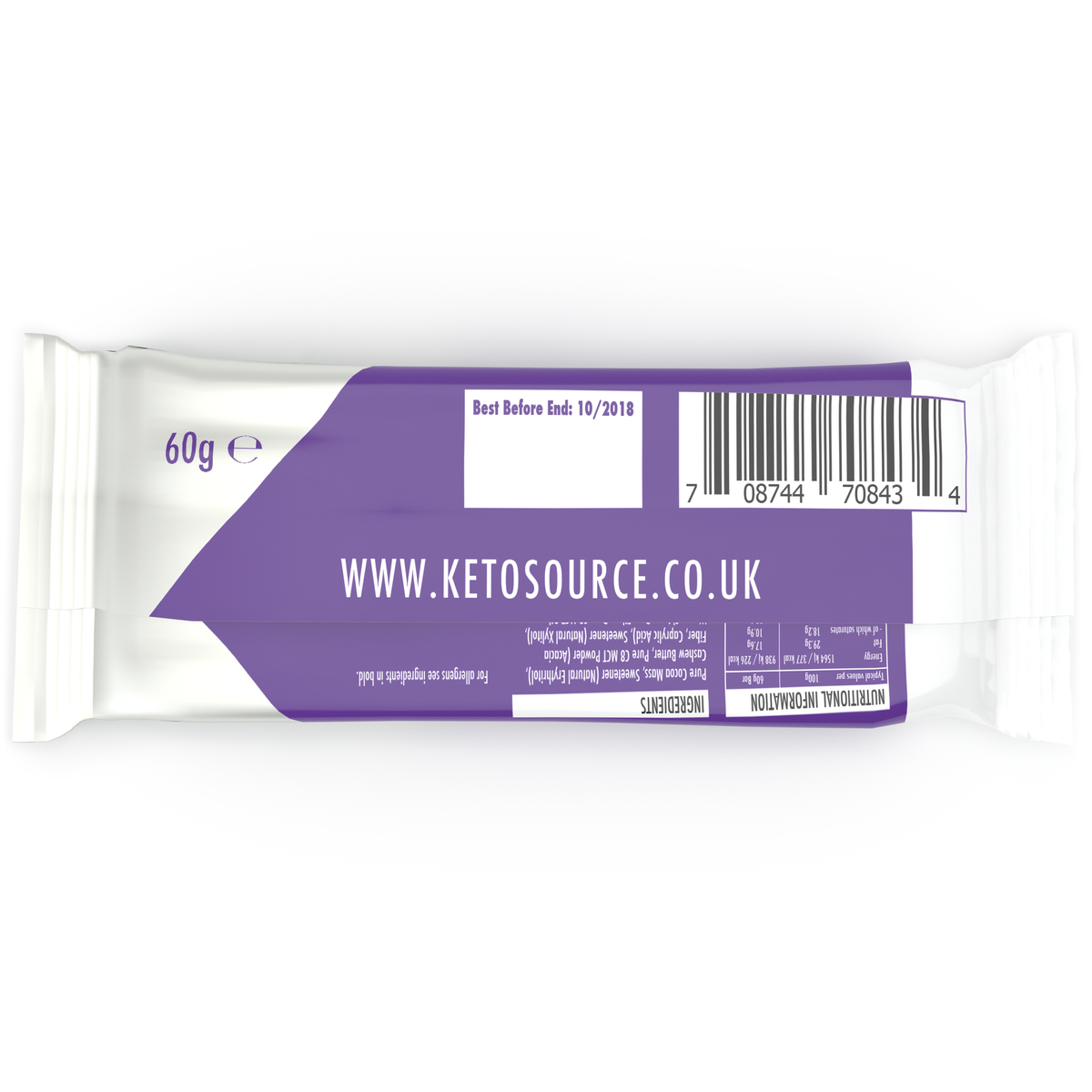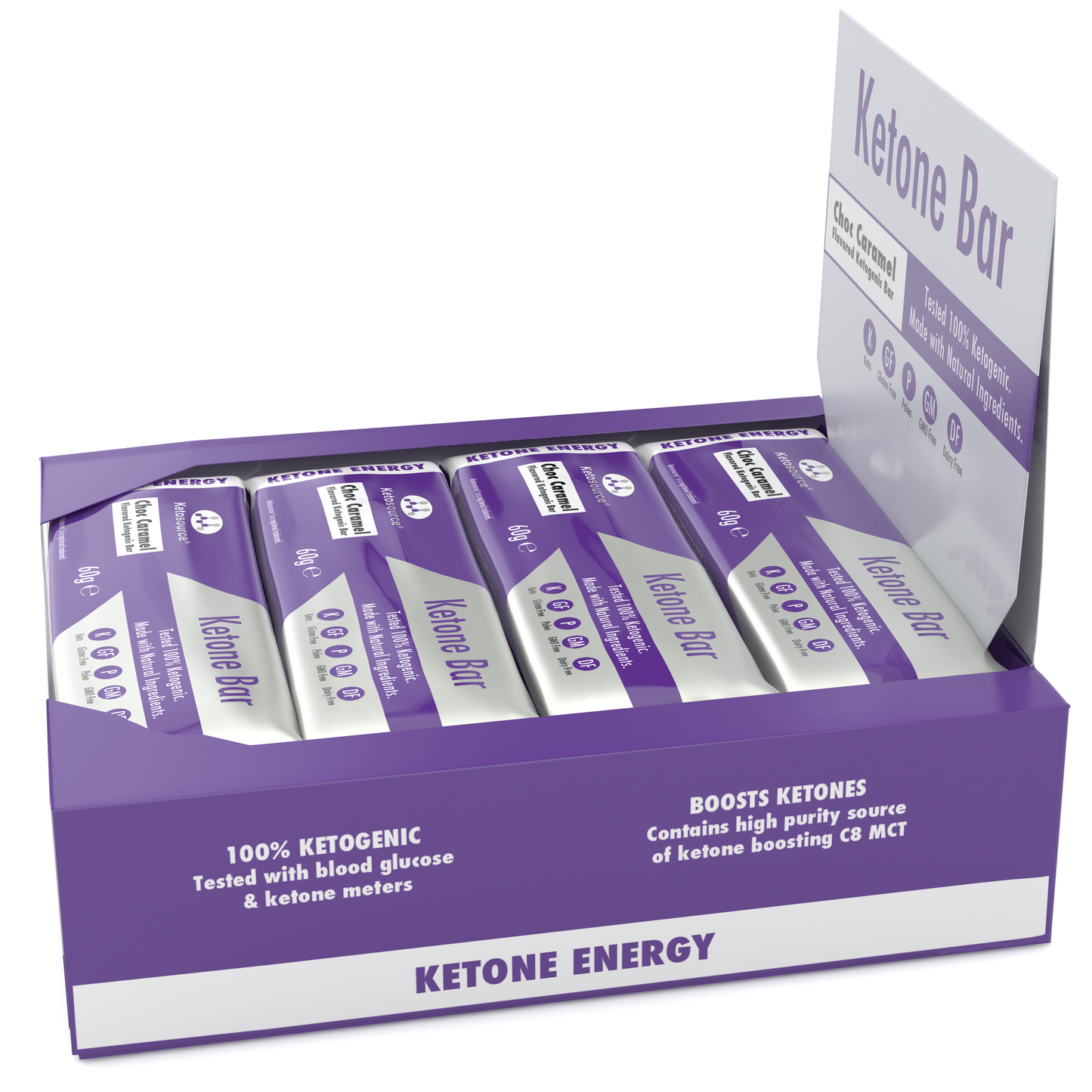 Nutrition & Ingredients
Chocolate Caramel Flavour
Macronutrients Per Bar (60g)
Net Carbs - 3.1g
Protein - 5.4g
Fat - 17g

Safe For
GMO Free, Dairy Free, Gluten Free, Paleo, Vegetarian

Full Ingredients
100% Natural Ingredients: Only natural and health promoting ingredients used. Nothing synthetic. No highly processed fibers.
Pure Cocoa Mass, Natural Sweetener (Erythritol), Cashew Butter, Pure C8 MCT Powder (Caprylic Acid Triglycerides, Acacia Fiber), Natural Sweetener (Xylitol), Chicory Root Fiber, Pure C8 MCT Oil (Caprylic Acid Triglycerides), Egg White Powder, Himalayan Salt, Sunflower Lecithin and Natural Flavorings.
Allergens
Full Nutrition Information
Calories - 220kcal
Total Fat - 17g
Total Carbs - 18.5g
Sugar Alcohols / Polyols - 15.4g
Total Sugars - 0.9g
Protein - 5.4g

How to Use Ketosource Ketone Bar
Ketosource Ketone Bars are tasty bars that can be used as snacks or meal replacements in anyone's diet.
They are used by most people in the following situations:
At Work or While Travelling: Used as conveniently carried snack or meal replacements when ketogenic options aren't easily available at work or while travelling.
For a Performance Boost: Before workouts, physical training, or cognitive tasks. Ketone bars provide a ketone energy boost that can support and fuel performance.
RECOMMENDED DOSAGE
For optimum results you should use this product as follows:
Eat one bar for meal replacement or snack situations. Ketones take approx. 30 minutes to start to rise, and after this point is reached you should feel more satiated/ less hungry.
For performance situations you may want to load up with 2 bars 30 to 60 minutes beforehand depending on your energy needs.
TO AVOID AND REVERSE SIDE EFFECTS
Depending on your gut microbiome, if you overuse this product (e.g. eat 2 or 3 bars in one go) it is possible that you may experience some stomach ache, upset or gas. If this happens, simply reduce your intake to a standard intake (e.g. 1 bar per hour).
Research Supporting Ketosource Ketone Bar
FUNCTIONAL IMPACT
We have collected data from over 40 people on the blood glucose and ketone response for the Ketone Bars. Below we show the response to eating 2 ketone bars (120g). Note that the glycemic response is flat to declining, and the ketones are increased over the 3 hours after eating.
As illustrated in the chart, if you are interested in doing your own testing to see the results in yourself, you should test for 3 hours (180 mins) after eating a bar. The typical results are:
Increased ketones. This effect typically peaks at 2 hours to 2 hours 30 minutes after eating.
Decreased glucose: This effect should peak by 3 hours. The reason for this is that it appears at a lagg (e.g. 30 to 60 minutes) from an increase in ketones.
We have completed a beta trial of over 35 people for which the results can be seen
here
. These include
charts, results and beta-tester reviews
.
In addition, a 9 person randomized experiment was carried out with the Ketone Bars at a
Keto London Community Meetup
. You can
read the results here
.
Ketosource are planning and undertaking studies of larger numbers of people to establish the blood glucose and blood ketone response to the ketone bars across the population. We'll also be looking to understand what personal and lifestyle factors may affect this functional response to the bar. If you'd like to take part in one of these studies
submit your application here
.
RELATED RESEARCH
Ketosource Ketone Bars contain Pure C8 MCT oil. This is also known as a pure Caprylic Acid Triglycerides product.
See this in-depth
article on Caprylic Acid (C8)
to understand the research and how it works.