A ketone-boosting powder to add to hot drinks. Formulated to help anyone with their ketone metabolism and perfectly suited to those following a keto diet and fasting. But works with any diet.
No Questions Asked Refunds

Any purchase with Ketosource is covered by our premium quality guarantee. Not happy, get your money back. Just reply to your order email or call and let us know you'd like a refund. No questions asked.
Save 10% with a Monthly Subscription

You save 10% on monthly subscription. Your order will rebill and reship every 30 days if you select this option.
You're In Control. Cancel Monthly Subscriptions Anytime.

Your subscription is all up to you. Cancel or change delivery frequency anytime in your account's subscription management. Or contact the team and they will  take care of it for you. Never get surprised with pre-payment email reminders before each delivery.
Ketone Support
Ketone Boost: Boosts Ketones into Appetite Reduction Ketosis Range Within 1 Hour. 4X Ketone Boost versus Other MCTs.
Carb Content: 0g Per Serving
Purity Standards
C8 MCT Purity: 99%+

Quality: Ultra low heavy metal and microbiological presence.
Diet Compatibility
View full details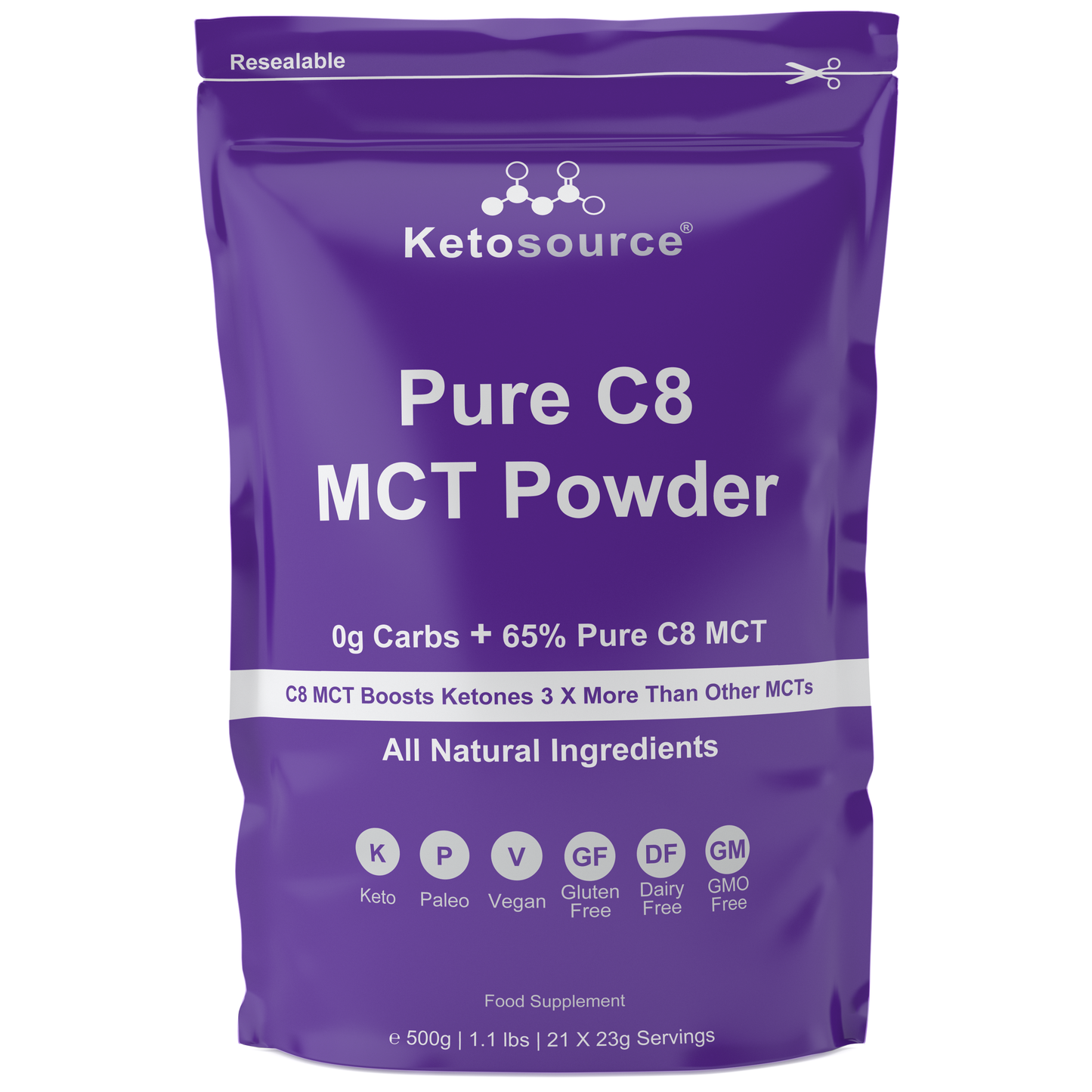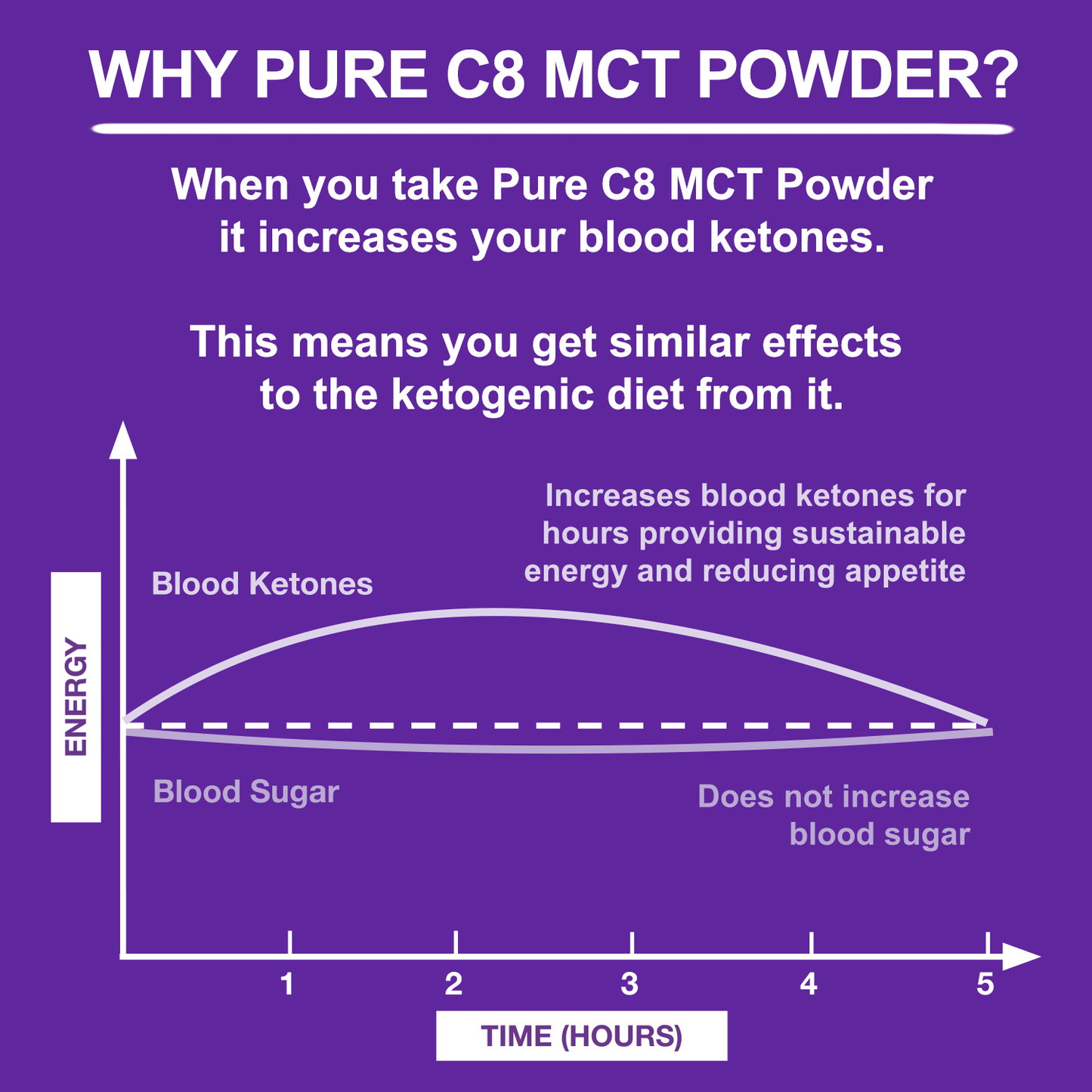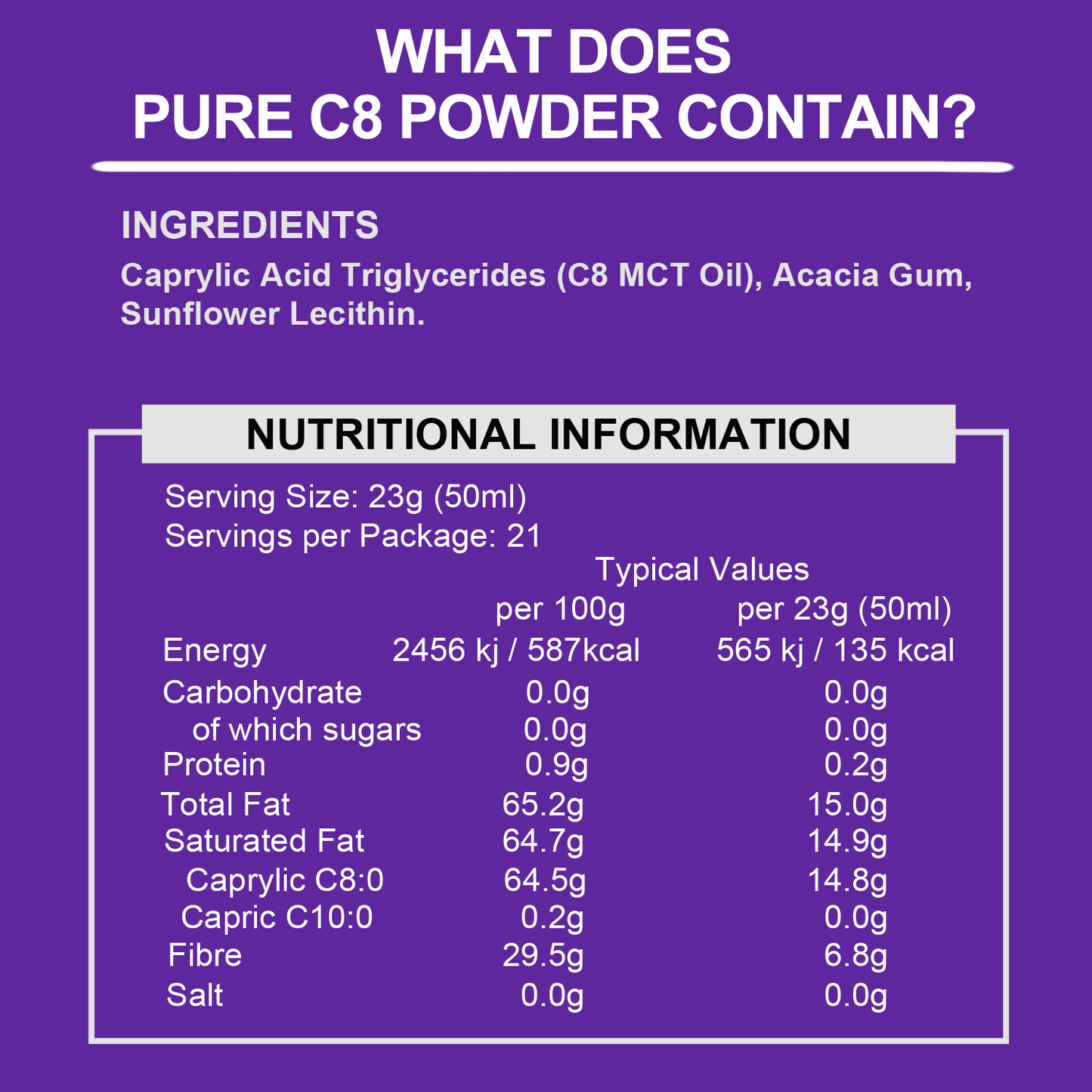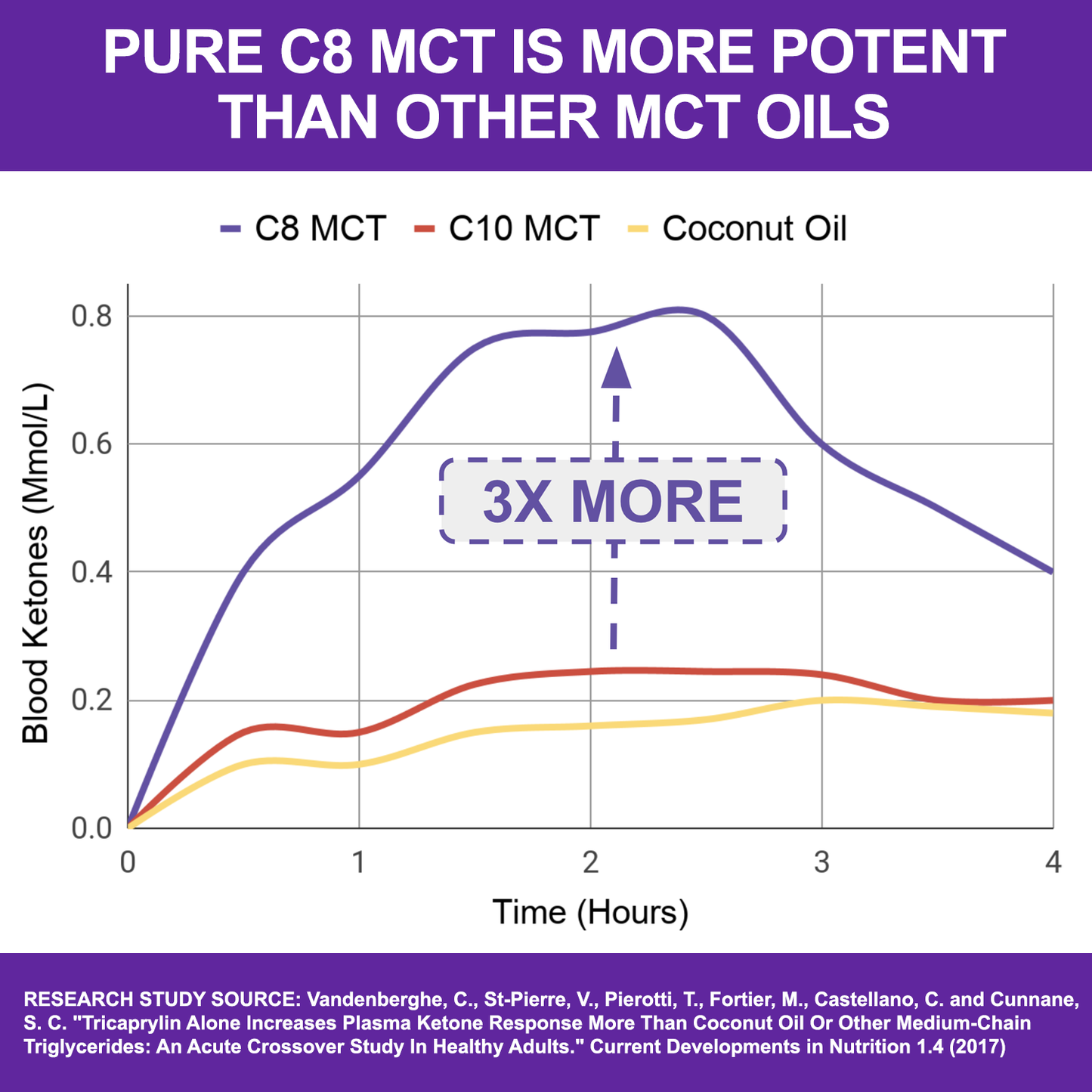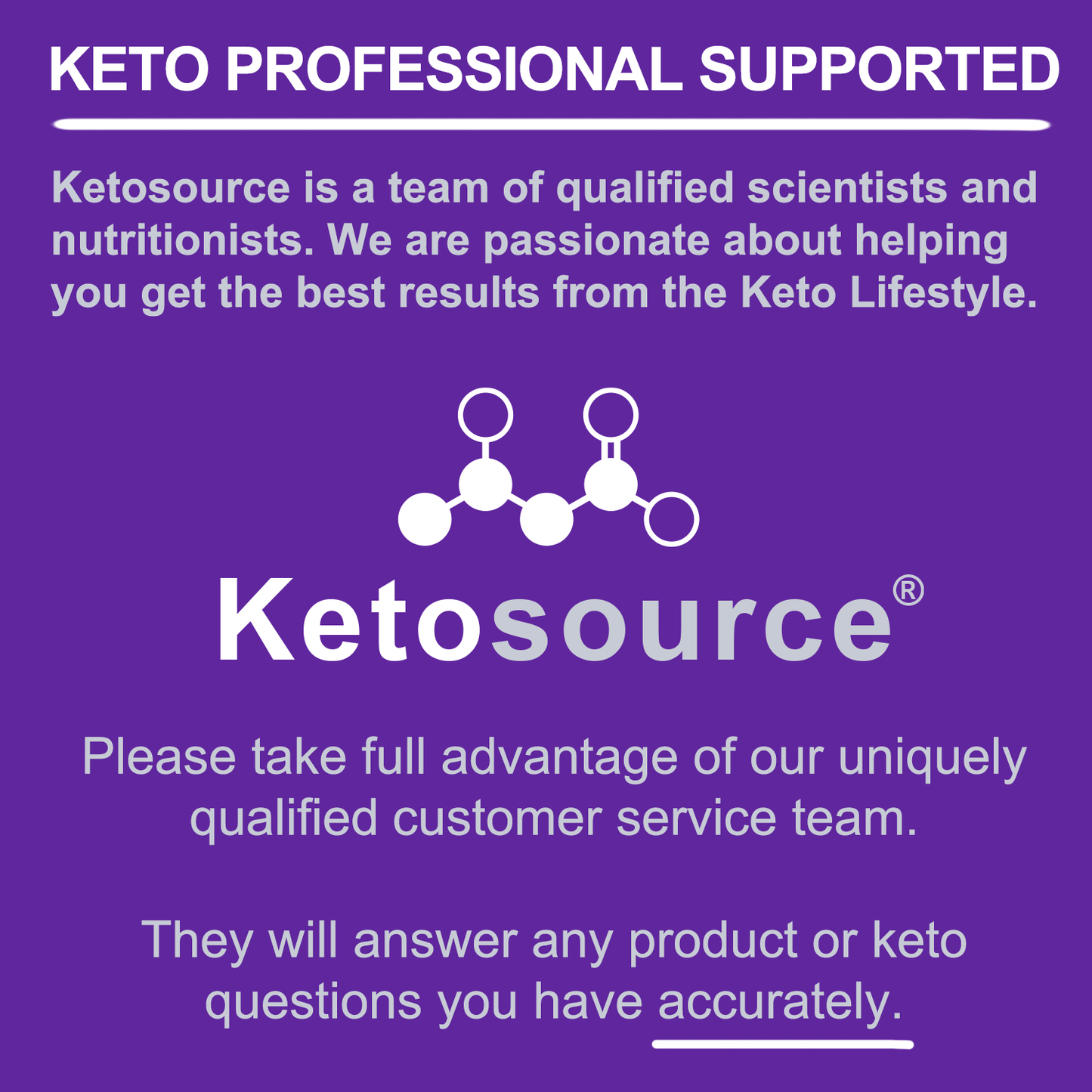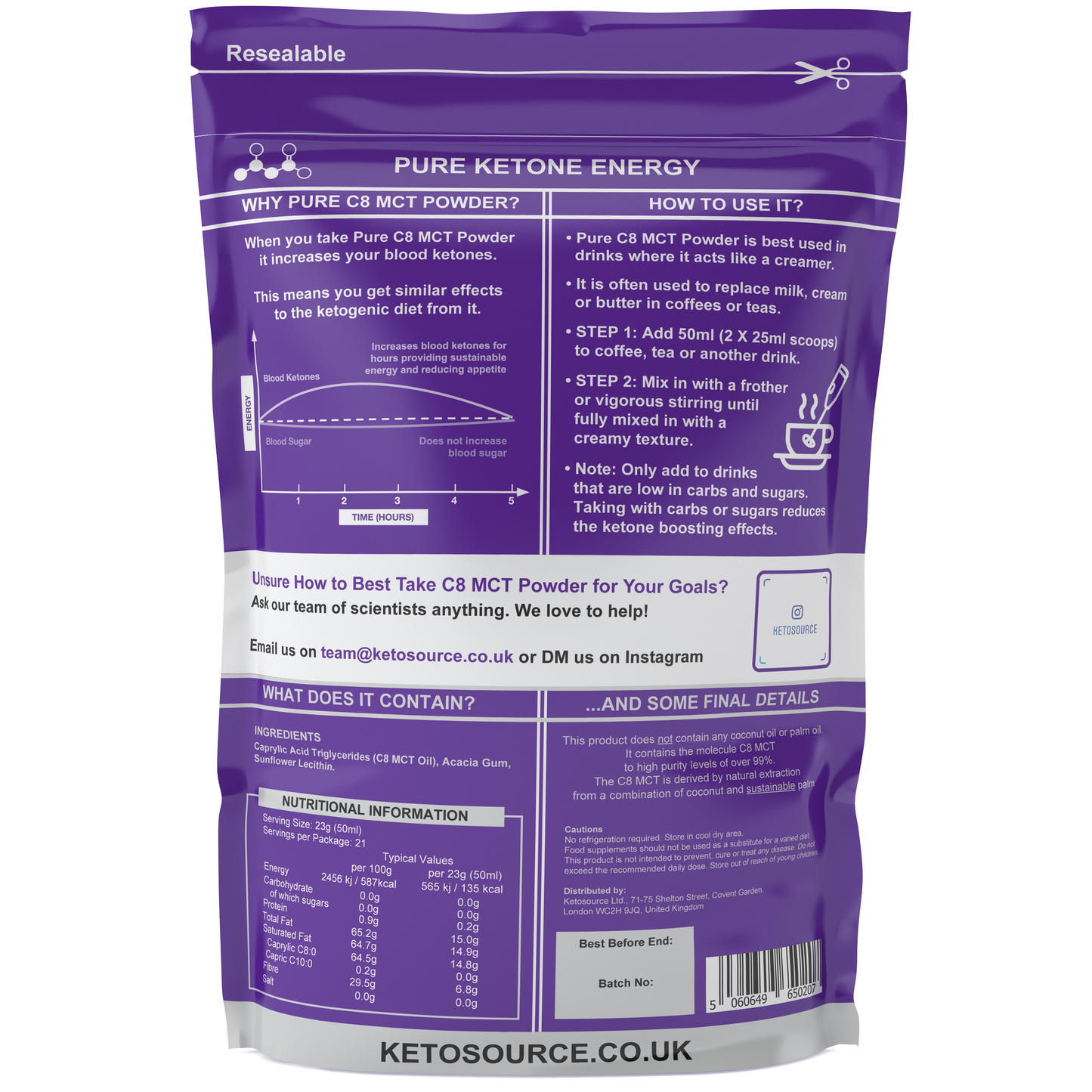 Ketone Boost. Stronger. Faster.
4 X Ketone Boost

◉ C8 MCT creates 4 X ketones versus other MCTs like C10 and C12.

◉ Mixed MCT oils contain a mix of MCTs including C8, C10 and C12.
◉ Because mixed MCT oils contain less C8, they boost ketone levels by less.

1 Hour to Ketosis

◉ The keto diet, fasting and MCT oils will put you in ketosis.

◉ C8 MCT Powder puts you into ketosis within 1 hour.

◉ This means it is 21 X faster than fasting and 46 X faster than the keto diet.

2 Hours in Ketosis

◉ Once in ketosis, Pure C8 MCT Powder will keep you there for ~2 hours.

◉ You can take C8 MCT Powder several times over the day to reboost into ketosis.
Very good
Very satisfied with this product, excellent results
C8 MCT Powder
Firstly, it's a matter of personal taste and I bought the powder version just to take away on a weekend break as I was worried that if I took the oil there might be a leakage problem. I tried it once in coffee and wasn't impressed. I much prefer the oil which I take neat every day. If you had asked me to review the oil I would have given 5*.
Creamy
I love this product. It taste great and is lovely and creamy. I also do find that it helps to reduce my appetite, which is something I need at the moment. It's also suitable for Vegetarians, which, seeing as I am one, is good news! I will say though, I wish it was a little less expensive, because then i could afford to buy it more often.
Unfortunately I can't tolerate
Couldn't get on with your C8 oil so thought I'd try powder. Binned it after two doses. Goes straight thru' me, just like the oil, didn't dare risk persevering with it. Have to stick with LCHF and IF to generate my own ketones.
Great ingredients but only average creamer
I thought I'd try this as it's better value than perfect keto and only C8. I tried them all and for some reason one scoop of perfect keto MCT powder whitens my coffee perfectly but with all other MCTs I need 2 scoops or more which then causes stomach discomfort. Hopefully further developments will change this.
MCT Powder
Enjoy this in my morning coffee. Mixes well & tastes great
What's Inside
Everything You Need. Nothing You Don't.

◉ Things You Do Want

- Active Ingredient Purity. Pure C8 MCT Powder has the highest purity level of the active ketone boosting ingredient C8 MCT.

◉ Things You Don't Want

- No Added Synthetic Ingredients

- No Hidden Carbs
- No Solvents or Other Contaminants

- No Heavy Metals

- No Micro contamination

100% Macros & Ingredients Transparency

◉ Three Natural Ingredients Only
C8 MCT Oil (Caprylic Acid Triglyceride), Acacia Fibre and Sunflower Lecithin.

◉ Full Transparency
We publish detailed nutritional information so you see exactly what's inside.
How to Use Pure C8 MCT Powder 4.0
Add to Any Zero Carb Drink

◉ Coffee
Upgrade your coffee by mixing C8 MCT Powder in.

◉ Teas
Add C8 MCT Powder to your preferred tea if you're not a coffee fan. It has the same effects.

◉ Any Other Zero Carb Drink
Add C8 MCT Powder to any other zero carb drink.

Take Up to 3 Times Daily

◉ Start with 1 Scoop
To avoid stomach upset start with 1 scoop (25 ml) per dose.

◉ Work Up to 2 Scoops per Dose
The full dose is 2 scoops (50 ml). Add a second scoop after your first week. So from week 2 you are taking a full 2 x scoops dose (50 ml).

◉ Take Up to Three Times per Day
You can take one dose several times per day. It's best to space these out by 4 hours or more.

Don't Take It With Any Carbs

◉ Carbs Reduce the Effects
Any carbs and sugars you take will reduce the effects of Pure C8 MCT Powder.

◉ If You Take with Food, Make it Fat or Protein Only
If you take C8 MCT Oil Powder with fat or protein only, you'll still get the ketone boosting effects.

◉ For Fat Loss Goals Don't Take With Food
If your goal is fat loss you shouldn't take the C8 MCT Powder with meals. This is because taking it with any calories will reduce the impacts of its appetite reduction effects.
How to Ensure Pure C8 MCT Powder 4.0 Works for You
For All Goals

Avoid taking with any carbs or sugars because this reduces the ketone boosting effect.

For Fat Loss Goals

Best taken without other calories an hour before you eat.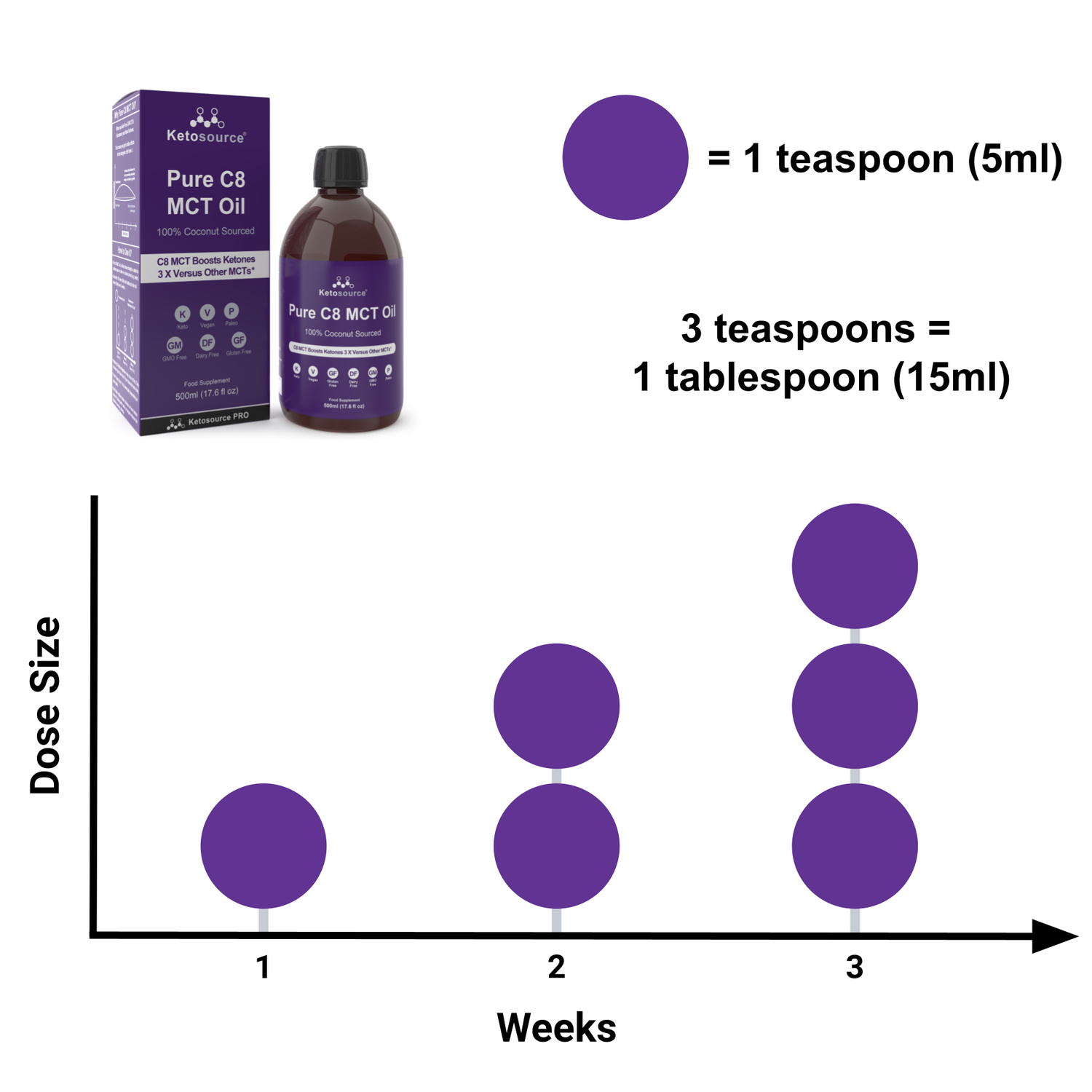 How to Take It
◉ Start with 1/2 dose (25 ml) and build up to the full dose (50 ml) after the first week is over.
◉ Take 1 dose from 1 to 3 times daily depending on your goals.
◉ Warning: Slight indigestion may occur at first. Only increase your dose size if your stomach feels okay.
Have a Question About Pure C8 MCT Powder 4.0?
Our keto and fasting experts are here to answer any questions you might have.


FAQs
What percentage of C8 comes from palm kernel oil and what percentage from coconut oil?

100% of Ketosource Pure C8 MCT Oil in Pure C8 Powder comes from sustainably farmed coconut oil.

We don't use any palm oil or palm materials to make Pure C8 MCT Oil.
Does it contain Lauric Acid (C12)?

This product contains no lauric acid as it is designed to be a pure source of C8 MCT (Caprylic Acid). The Lauric Acid (also known as C12) has been completely removed.

For clarification on this you can check the nutrition facts label on this page. It shows lists C12 (Lauric Acid) as 0g per 100g.

We remove all C12 (and C10) from Pure C8 MCT Oil. This is because neither are effective at boosting ketones. Lauric Acid has a particularly low impact on ketones - so this is also removed from our other product, Pure MCT Oil.
What is the shelf-life once opened? How long will it last?

Each bottle of C8 MCT oil comes with a best before date on the package.

Food regulations require that the item have a best before date but its shelf life is far longer than the Best Before Date.

This is because the oil is a very stable fatty acid. It doesn't damage easily. Opening the bottle or keeping it at room temperature has no impact on it's shelf-life.

So you can safely use the C8 MCT oil long past it's best before date. If your bottle is over one year after the best before date, please contact us to discuss further.
I'm on a calorie controlled diet, is this ok or is it just for Keto diets?

C8 MCT oil will work when following any diet. This is because C8 MCT oil helps reduce your appetite. And it can do this without you changing your diet.This helps you eat less at your meals, regardless of what you eat.
Should I use this for bulletproof coffee?

Yes, the bulletproof coffee is made specifically with C8 MCT only. So Ketosource Pure C8 is ideal for Bulletproof Coffee.

Please Note: If your goal is fat loss you should not add butter to your coffee, or drink bulletproof coffee. Bulletproof coffee is great for other goals, but not fat loss. In fact , bulletproof coffee is likely to contribute to weight gain.

Get in touch with our Nutrition Analysts for free advice to attain your goals via our contact page.
Research on Pure C8 MCT Powder 4.0
Articles Summarizing Research
Fast Shipping

Orders are shipped same day and arrive quickly

Call for Help

+44 (0) 20 3617 5250

9am to 5pm Mon - Fri

Free Shipping

Orders over minimum are shipped to you for free. Depends on your shipping country.