Regular price
Sale price
£39.99
Unit price
per
Sale
Sold out
No Questions Asked Refunds

Any purchase with Ketosource is covered by our premium quality guarantee. Not happy, get your money back. Just reply to your order email or call and let us know you'd like a refund. No questions asked.
Save 10% with a Monthly Subscription

You save 10% on monthly subscription. Your order will rebill and reship every 30 days if you select this option.
You're In Control. Cancel Monthly Subscriptions Anytime.

Your subscription is all up to you. Cancel or change delivery frequency anytime in your account's subscription management. Or contact the team and they will  take care of it for you. Never get surprised with pre-payment email reminders before each delivery.
BenaGene Oxaloacetate reduces high blood sugar levels and blood sugar variability.
Acts as an anti-oxidant with protection for brain, eye and pancreatic islet cells.
Helps in protecting mitochondria DNA.
Each BenaGene capsule contains 100mg of thermally stabilized oxaloacetate.
Have a Question About Oxaloacetate 30 Capsules | by BenaGene?
Our keto and fasting experts are here to answer any questions you might have.


What is BenaGene Oxaloacetate?
BenaGene Oxaloacetate is a four-carbon molecule, a critical component in the production of adenosine triphosphate (ATP). ATP is the main energy source for the majority of all cellular functions. It must be constantly regenerated, because without adequate ATP, our cells cannot function properly.
This product is a nutritional supplement consisting of two compounds, which already exist in human bodies, oxaloacetic acid and Vitamin C. This causes the supplement to help optimize clear cognitive potential and support brain health.
Oxaloacetate has been found to help protect brain neurons and brain mitochondrial DNA, and provide potent antioxidant protection.
BenaGene has been created to modify metabolism in order to mimic calorie restricted conditions at the cellular level, without the usual reduction in the calorie content.
It comes in a bottle with 30 capsules. Recommended daily dose is 1 capsule.
BENEFITS OF OXALOACETATE
Since it is found in every cell of our bodies, Oxaloacetate as an energy molecule is critical to human metabolism. Clinical trials have documented significant glucose level reductions in diabetic patients who used this product. Although benaGene does lower high glucose levels, it does not cause hypoglycaemia in non-diabetic patients.
Main benefits of the product are:
higher energy levels in your body
sleep improvement
decreased sugar cravings
decreased ability to create and store fat in your body
increased sense of relaxation and general well-being
BenaGene Oxaloacetate maintains healthy neurons in the brain, as well as the nervous system. It does so by ensuring that there is no toxic build-up of glutamate in your body.
It has also been shown to increase the protective effects of zinc on human eye cells. By supporting the DNA and other already mentioned tissues, this product may reduce the risk of many age-related degenerative conditions. It is also a strong anti-oxidant.
View full details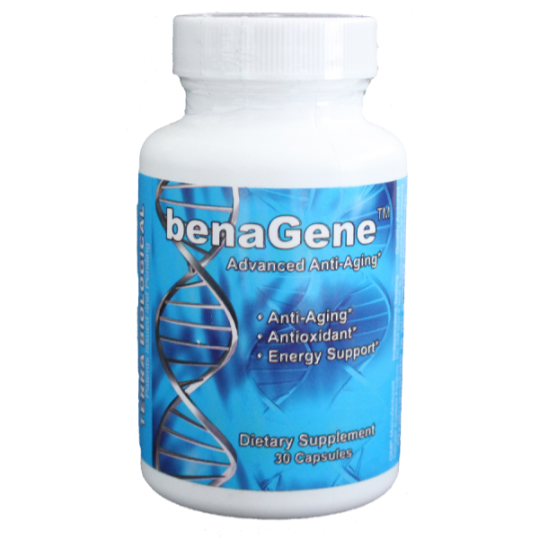 Nutrition & Ingredients
| | | | |
| --- | --- | --- | --- |
| Ingredients | Per Capsule | %Daily Value | |
| Vitamin C | 100 mg | 167% | |
| benaGene (3-carboxy-3-oxopropanoic acid) | 100 mg | Not Established | |
Research Supporting Oxaloacetate 30 Capsules | by BenaGene
The scientist who created Oxaloacetate discusses the research and use of oxaloacetate in depth in this interview.
Within the last five years, there have been several studies by major universities documenting that an increase in the NAD+/NADH ratio results in statistically significant increases in lifespan and health-span in laboratory animals. This same increase in the NAD+/NADH ratio has also been shown to increase individual human cell lifespan in vitro. benaGene is a bio-identical human metabolite that increases the NAD+/NADH ratio, and has been proven to result a 25% increase in lifespan in laboratory animals (p < 0.001). Health-span of the animals is also remarkably increased.
Clinical trials using oxaloacetate have documented significant glucose level reductions in diabetic patients. A separate study in non-diabetic patients documented a reduction in the amplitude of glucose swings, allowing better overall blood sugar management. No negative side effects were reported. Although benaGene lowers high glucose levels, it does not cause hypoglycemia (abnormally low glucose levels) in non-diabetic patients. (Blood glutamate scavenging as a novel neuroprotective treatment for paraoxon intoxication. Feb 2014. Ruban A.)
benaGene is a powerful anti-oxidant, and has been shown to protect neurological tissue, pancreatic tissue and eye tissue in animal studies.