A pure fibre to add to hot drinks. Zero calories and blood glucose impact. Perfectly suited to those fasting or following a keto diet. But works with any diet.
No Questions Asked Refunds

Any purchase with Ketosource is covered by our premium quality guarantee. Not happy, get your money back. Just reply to your order email or call and let us know you'd like a refund. No questions asked.
Save 10% with a Monthly Subscription

You save 10% on monthly subscription. Your order will rebill and reship every 30 days if you select this option.
You're In Control. Cancel Monthly Subscriptions Anytime.

Your subscription is all up to you. Cancel or change delivery frequency anytime in your account's subscription management. Or contact the team and they will  take care of it for you. Never get surprised with pre-payment email reminders before each delivery.
Ketone Support
Ketone Impact: Zero negative impacts on ketones.
Glucose Impact: Zero increase in glucose levels.
Carb Content: 0g Per Serving
Purity Standards
Acacia Purity: 100% Organic Senegal Acacia

Quality: Ultra low heavy metal and microbiological presence.
Diet Compatibility
View full details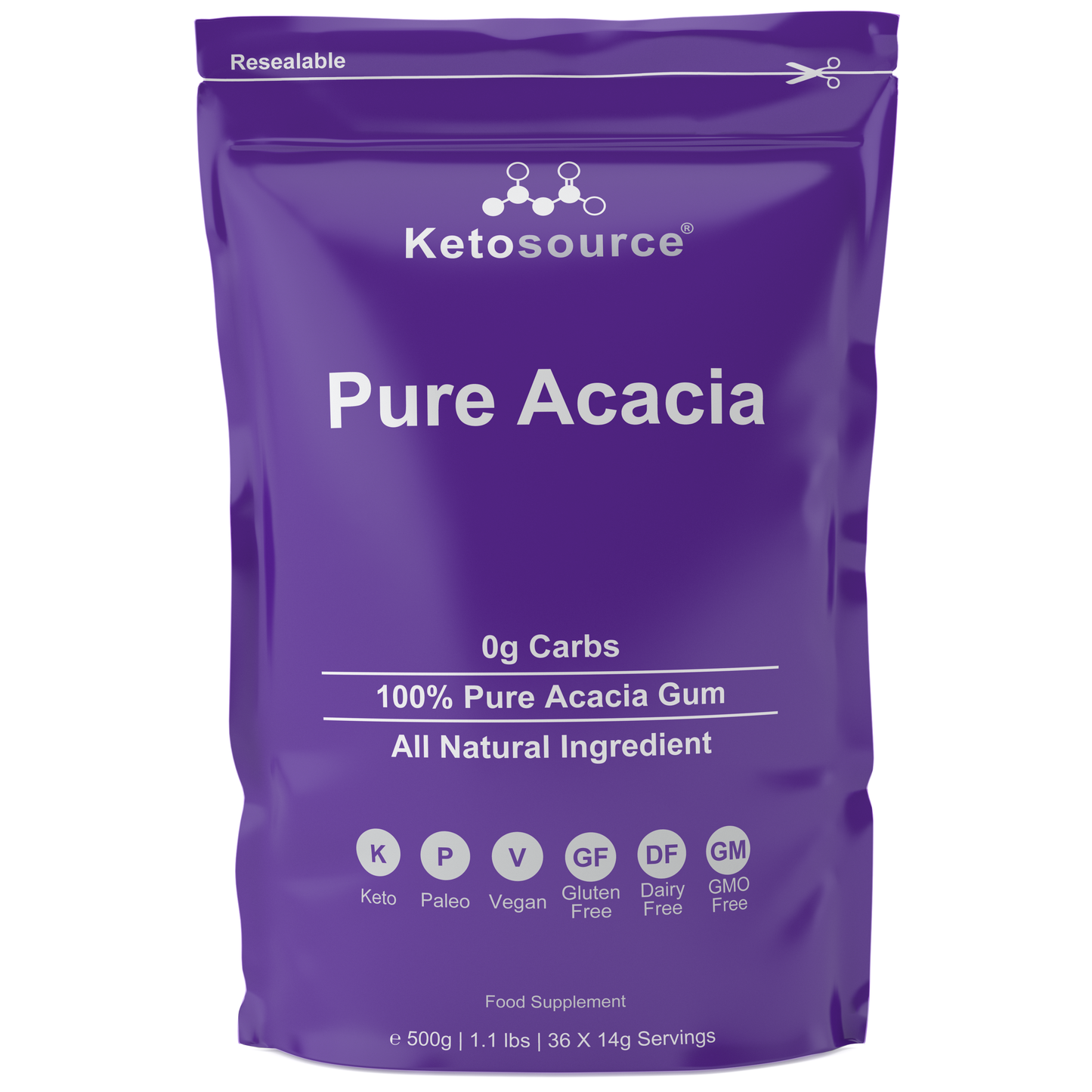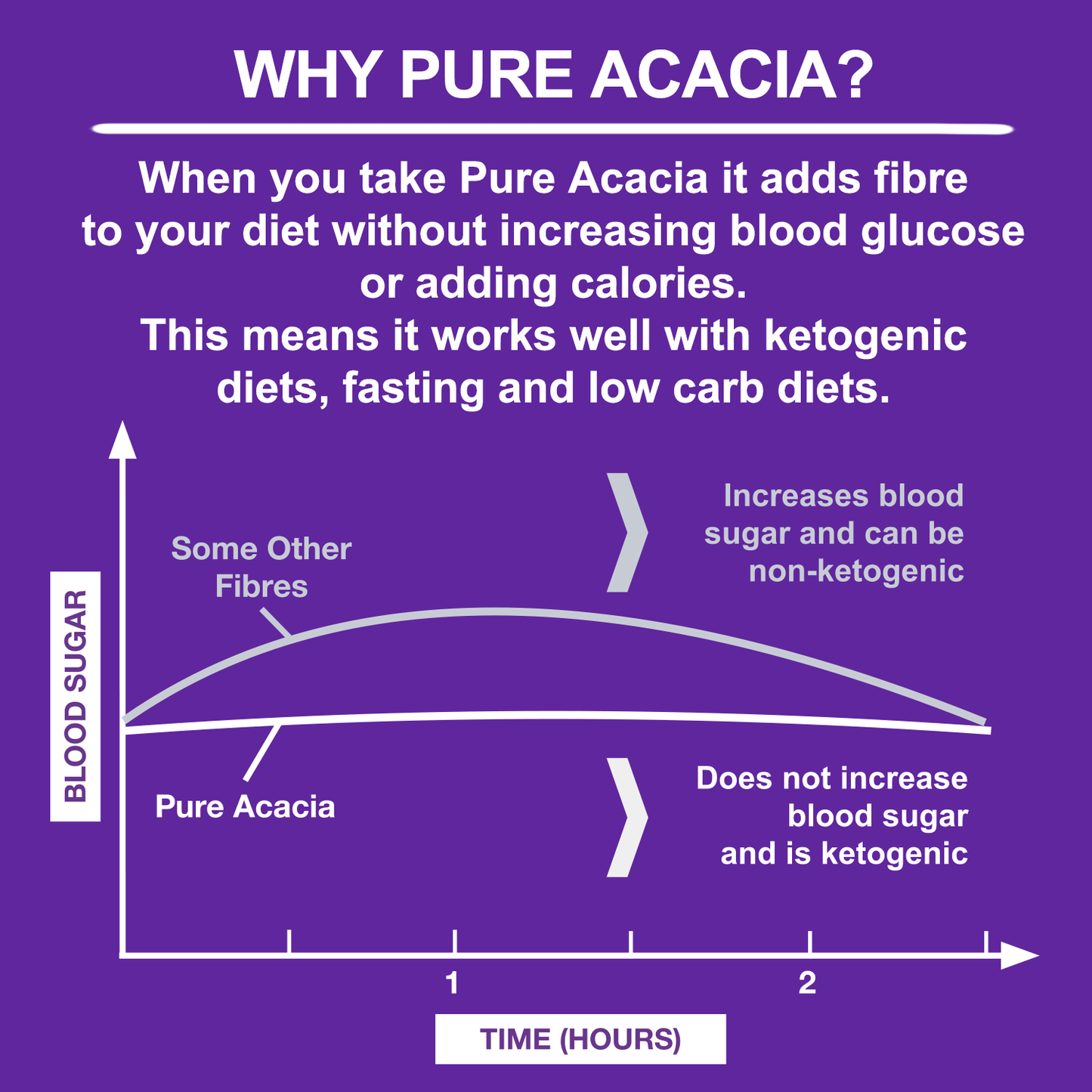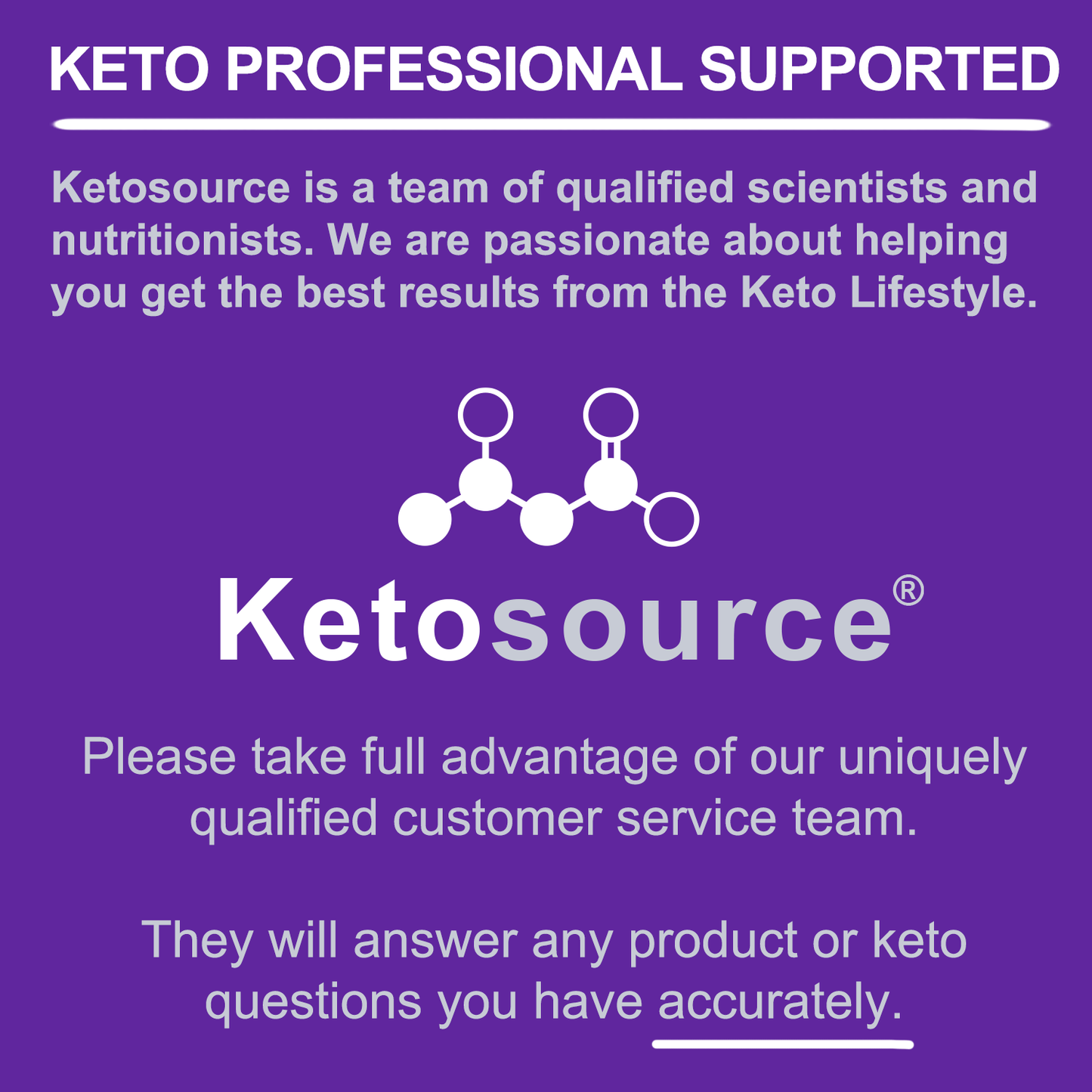 Zero Calories. Zero Blood Glucose Increase.
4 X Ketone Boost

◉ C8 MCT creates 4 X ketones versus other MCTs like C10 and C12.

◉ Mixed MCT oils contain a mix of MCTs including C8, C10 and C12.
◉ Because mixed MCT oils contain less C8, they boost ketone levels by less.

1 Hour to Ketosis

◉ The keto diet, fasting and MCT oils will put you in ketosis.

◉ C8 MCT Powder puts you into ketosis within 1 hour.

◉ This means it is 21 X faster than fasting and 46 X faster than the keto diet.

2 Hours in Ketosis

◉ Once in ketosis, Pure C8 MCT Powder will keep you there for ~2 hours.

◉ You can take C8 MCT Powder several times over the day to reboost into ketosis.
What's Inside
Everything You Need. Nothing You Don't.

◉ Things You Do Want

- Active Ingredient Purity. Pure Acacia Fibre has the highest purity level of the active ingredient Acacia.

◉ Things You Don't Want

- No Added Synthetic Ingredients

- No Hidden Carbs
- No Solvents or Other Contaminants

- No Heavy Metals

- No Micro contamination

100% Macros & Ingredients Transparency

◉ One Ingredient Only
Organic Senegal Acacia Fibre (also known as Acacia Gum)

◉ Full Transparency
We publish detailed nutritional information so you see exactly what's inside.
How to Use Ketosource Pure Acacia
Add to Any Zero Carb Drink

◉ Coffee
Upgrade your coffee by mixing C8 MCT Powder in.

◉ Teas
Add C8 MCT Powder to your preferred tea if you're not a coffee fan. It has the same effects.

◉ Any Other Zero Carb Drink
Add C8 MCT Powder to any other zero carb drink.

Take Up to 3 Times Daily

◉ Start with 1 Scoop
To avoid stomach upset start with 1 scoop (25 ml) per dose.

◉ Work Up to 2 Scoops per Dose
The full dose is 2 scoops (50 ml). Add a second scoop after your first week. So from week 2 you are taking a full 2 x scoops dose (50 ml).

◉ Take Up to Three Times per Day
You can take one dose several times per day. It's best to space these out by 4 hours or more.

Don't Take It With Any Carbs

◉ Carbs Reduce the Effects
Any carbs and sugars you take will reduce the effects of Pure C8 MCT Powder.

◉ If You Take with Food, Make it Fat or Protein Only
If you take C8 MCT Oil Powder with fat or protein only, you'll still get the ketone boosting effects.

◉ For Fat Loss Goals Don't Take With Food
If your goal is fat loss you shouldn't take the C8 MCT Powder with meals. This is because taking it with any calories will reduce the impacts of its appetite reduction effects.
How to Ensure Ketosource Pure Acacia Works for You
For All Goals

Avoid taking with any carbs or sugars because this reduces the ketone boosting effect.

For Fat Loss Goals

Best taken without other calories an hour before you eat.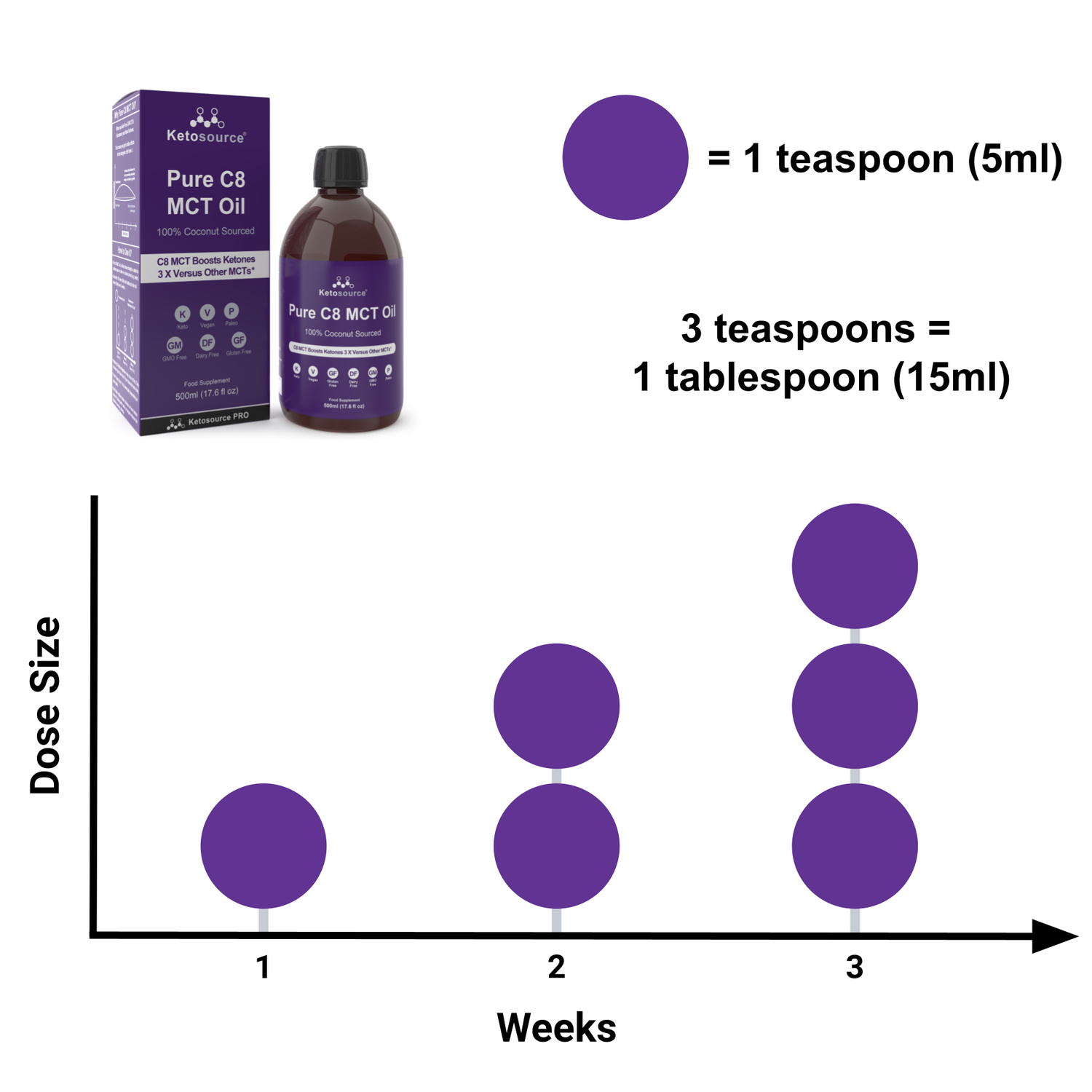 How to Take It
◉ Start with 1/2 dose (25 ml) and build up to the full dose (50 ml) after the first week is over.
◉ Take 1 dose from 1 to 3 times daily depending on your goals.
◉ Warning: Slight indigestion may occur at first. Only increase your dose size if your stomach feels okay.
Have a Question About Ketosource Pure Acacia?
Our keto and fasting experts are here to answer any questions you might have.


Fast Shipping

Orders are shipped same day and arrive quickly

Call for Help

+44 (0) 20 3617 5250

9am to 5pm Mon - Fri

Free Shipping

Orders over minimum are shipped to you for free. Depends on your shipping country.