Regular price
£61.99
Sale price
£39.99
Unit price
per
Sale
Sold out
No Questions Asked Refunds

Any purchase with Ketosource is covered by our premium quality guarantee. Not happy, get your money back. Just reply to your order email or call and let us know you'd like a refund. No questions asked.
Save 10% with a Monthly Subscription

You save 10% on monthly subscription. Your order will rebill and reship every 30 days if you select this option.
You're In Control. Cancel Monthly Subscriptions Anytime.

Your subscription is all up to you. Cancel or change delivery frequency anytime in your account's subscription management. Or contact the team and they will  take care of it for you. Never get surprised with pre-payment email reminders before each delivery.
Format: Blood Glucose and Ketone Meter (Bluetooth) - Basic Starter Kit
Suitable For: Those testing their glucose and ketones on a keto diet
Compatible With: Keto-Mojo Classic App - iOS (version 12.0 and above) and Android (version 6 and above)
Have a Question About Keto-Mojo GKI-Bluetooth Blood Glucose & Ketone Meter - BASIC STARTER KIT?
Our keto and fasting experts are here to answer any questions you might have.


BLOOD GLUCOSE AND KETONE METER (GKI-BLUETOOTH) - BASIC STARTER KIT (mmol)

(Keto-Mojo GKI is the 2nd Version of the Meter and only available in Europe currently)

Each Basic Starter Kit Includes:
The Keto-Mojo GKI-Bluetooth blood glucose and ketone meter (set to read glucose in mmol)
10 Glucose test strips, 10 Ketone test strips
NOTE: Strips must be used by the BB date printed on the pack as the meter can detect if they are out of date.
Lancet device and 10 lancets
Glucose and Ketone control solutions
High quality zippered clamshell accessory case
2 AAA batteries
DESCRIPTION AND USE
A useful tool for anyone following a ketogenic diet
GKI refers to the Glucose Ketone Index, a marker for tracking levels of ketosis.
Bluetooth integration allows customers to instantly download all of their glucose, ketone, and GKI readings right from their meter to the free Keto-Mojo Classic app on their mobile phone so they can track and monitor their progress.
ABOUT THE METER
Ketone and glucose meter that measures and displays GKI.
Auto-coding technology, no coding keys necessary.
Back-lit display along with strip port light for low light and nighttime use.
Up to 5 daily alarm settings for reminders to take your measurements.
Before and after meal settings to identify trigger foods.
Strip ejector button for hygienic strip disposal.
Bluetooth 4.2 technology for connectivity with the Keto-Mojo Classic app compatible with iOS (version 12.0 and above) and Android (version 6 and above).
ABOUT THE STRIPS
Utilizes an 8 electrode amperometric biosensor technology.
High speed super-sip patented technology eliminates under-fill issues which can lead to inconsistent or inaccurate results.
Packaged in individual foil pouches for enhanced sterility and preservation.
Extended shelf life of 22-24 months.
View full details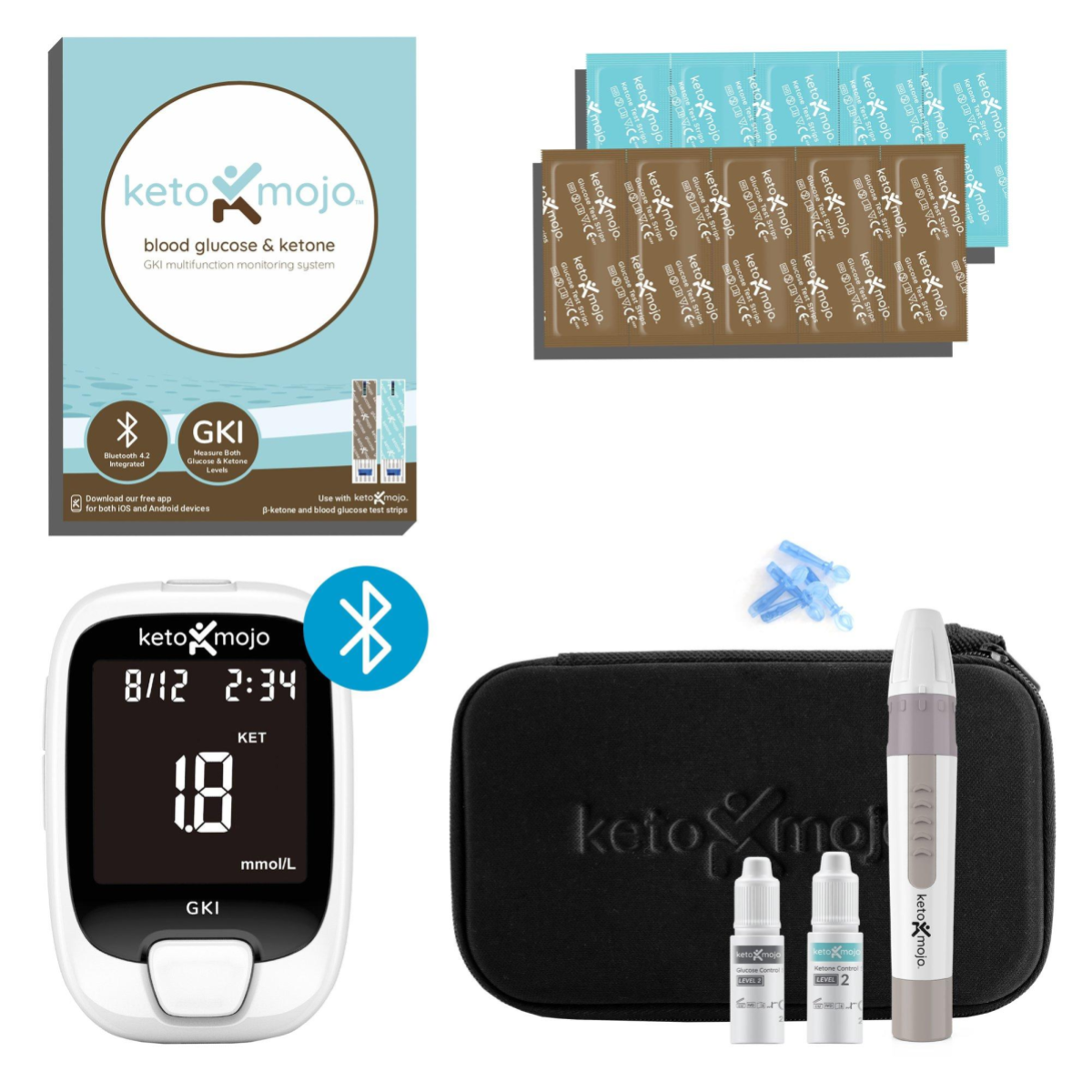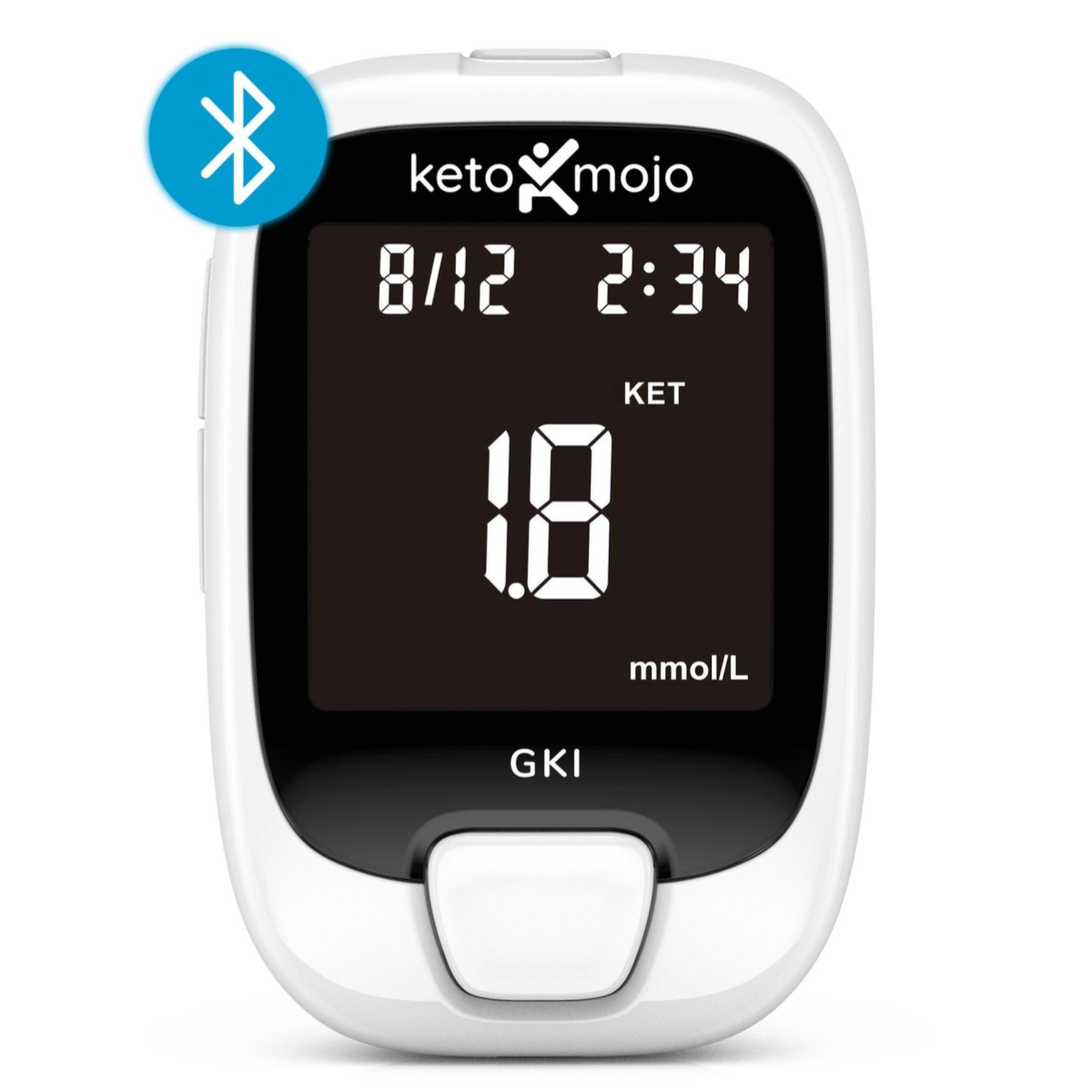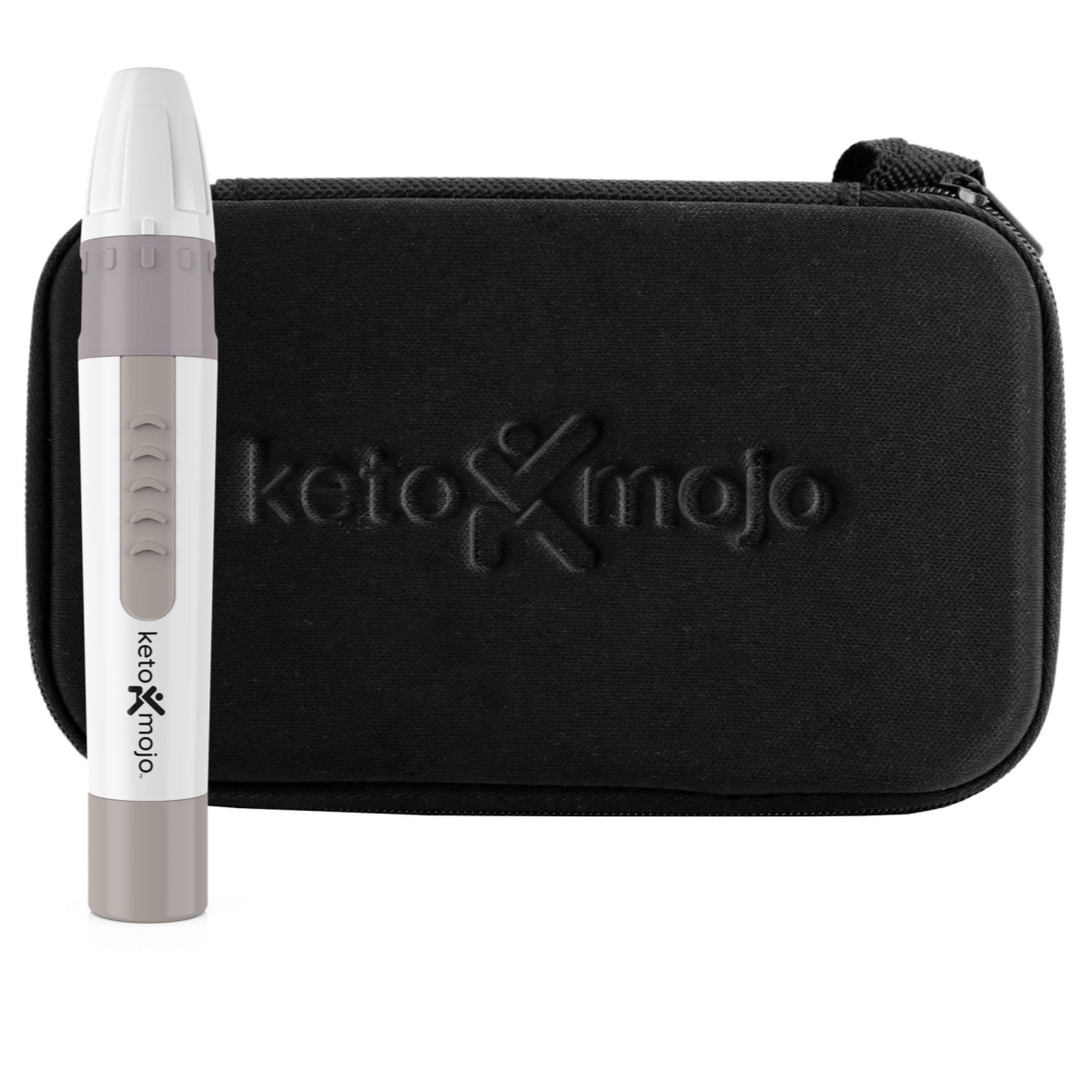 Nutrition & Ingredients
.