Regular price
Sale price
£21.97
Unit price
per
Sale
Sold out
No Questions Asked Refunds

Any purchase with Ketosource is covered by our premium quality guarantee. Not happy, get your money back. Just reply to your order email or call and let us know you'd like a refund. No questions asked.
Save 10% with a Monthly Subscription

You save 10% on monthly subscription. Your order will rebill and reship every 30 days if you select this option.
You're In Control. Cancel Monthly Subscriptions Anytime.

Your subscription is all up to you. Cancel or change delivery frequency anytime in your account's subscription management. Or contact the team and they will  take care of it for you. Never get surprised with pre-payment email reminders before each delivery.
Size Format: Each Bottle 500ml (17.6 fl oz)
Safe For: GMO Free, Dairy Free, Gluten Free, Paleo, Vegetarian
Have a Question About Ketosource Pure C8 MCT Coffee Creamer?
Our keto and fasting experts are here to answer any questions you might have.


WHAT IS PURE C8 MCT CREAMER?
Pure C8 MCT Creamer is a coffee creamer designed and tested for ketogenic use. It has these properties:
Increases blood ketones (Beta-hydroxybutyrate) thanks to the active ingredient (Pure C8 MCT oil)
Does not raise blood sugar (has zero glycemic impact and often will lower blood sugar.
Is 100% ketogenic (has been tested to not interfere with ketogenic diets, but support them)
Made from all natural ingredients - it is primarily made from 3 natural ingredients (Pure C8 MCT, organic Acacia Fibre and purified water).
Want us to create your favourite flavour? Or do something else with this creamer? Vote here to get us focused on developing what you want.
HOW PURE C8 MCT CREAMER WORKS
Pure C8 MCT Creamer contains no glycemic ingredients. Its main ingredient is the Pure C8 MCT oil.
The C8 MCT converts into ketones via the liver. As a consequence, the cream not only has no glucose response (i.e. it's 100% ketogenic), but it also boosts ketones.
This provides a quick and direct energy source from ketone metabolism and the other various benefits of ketone-bodies (e.g. satiation, steady energy levels).
HOW PURE C8 MCT CREAMER DIFFERS TO OTHER SIMILAR PRODUCTS
Ketosource C8 MCT Creamer is unique, as with other Ketosource products, because it is tested to confirm it increases blood ketones effectively.
Similar products would be Onnit emulsified MCT oil or YourZooki emulsified MCT oil.
Other similar products tend to have one or more of three weaknesses compared to Pure C8 MCT Creamer:
Lower MCT Quality: Mixed MCT oils are used instead of pure C8 MCT. Since only the C8 MCT boosts ketones, they effectively have diluted the active MCTs in the product.
Long list of ingredients: Other products contain long and unnecessary lists of ingredients. Pure C8 MCT Creamer contains 4 ingredients in total, and we're aiming to reduce this to 3 main ingredients with further development.
Not 100% Ketogenic: Sometimes the products contain 'glucose increasing' ingredients such as sucrose or glycerine. Or high levels of protein, that are less relevant to ketogenic diets. 
WHO IS PURE C8 MCT CREAMER SUITABLE FOR?
Pure C8 MCT Creamer is suitable for consumption by people in the following situations:
Ketogenic or low-carb dieters who want to make drinks that are 100% ketogenic compliant that they can use when at work or traveling.
People who are new to the ketogenic diet and want to increase ketosis or ease their way into ketosis, or an easy way to add more fats to their diet.
People looking to increase cognitive performance through ketone fuelling and metabolism (note: aiming for 1.5 to 3 mmol is considered a good blood ketone range to aim for).
People looking to increase physical performance in the gym, in competitions and as professional athletes through ketone fuelling and metabolism.
MANUFACTURING & PACKAGING INFORMATION
Ketosource C8 MCT Creamer is GMO-free, gluten-free, dairy-free and paleo and vegan compliant.
The product has also been screened for heavy metal and pesticide residues.
Pure C8 MCT Oil has been designed to use a minimum of ingredients and only ingredients that are beneficial to the body based on current research.
Pure C8 MCT Oil contains no artificial sweeteners that damage the gut. It also includes a specific type of fiber that has beneficial effects on the gut (acacia fiber). 
View full details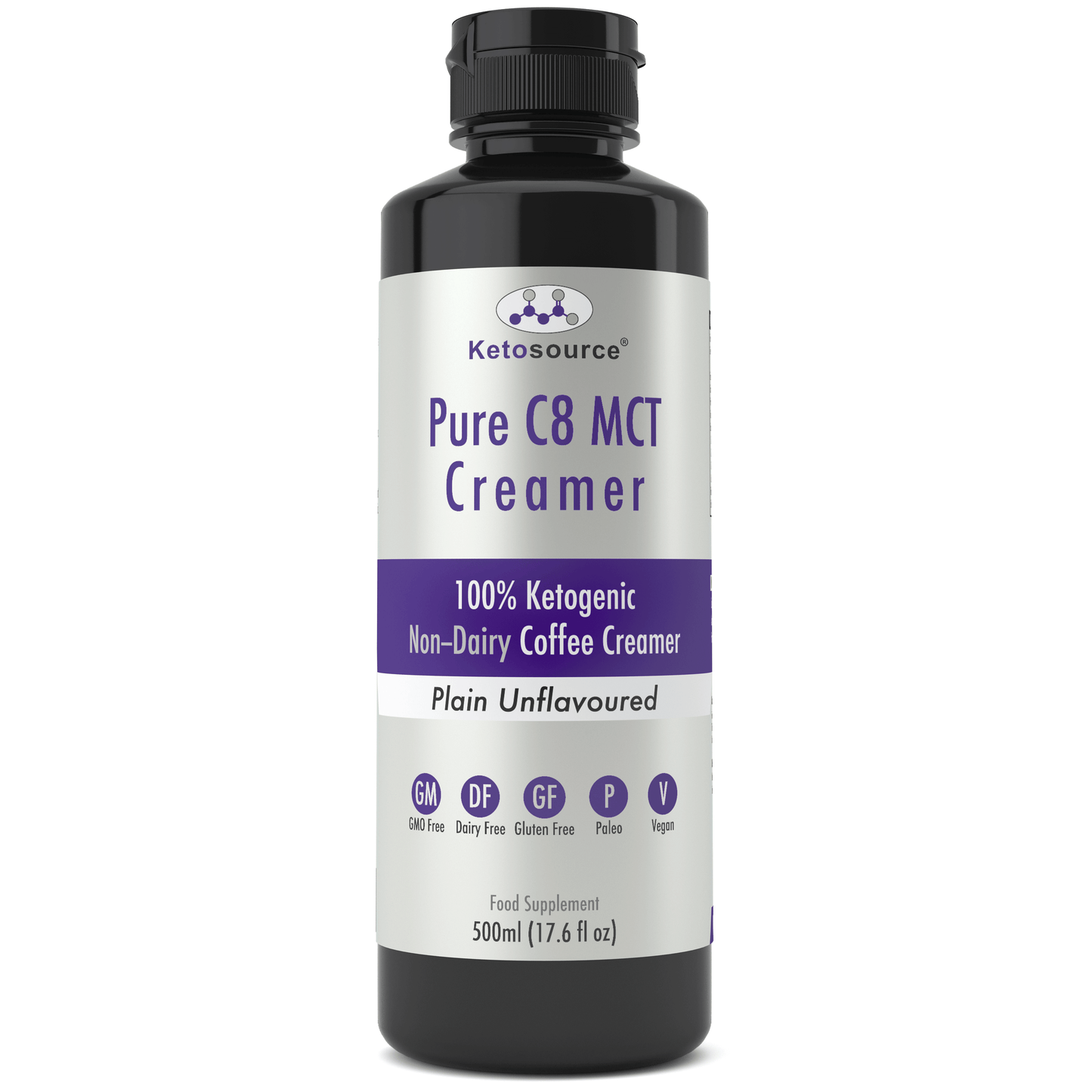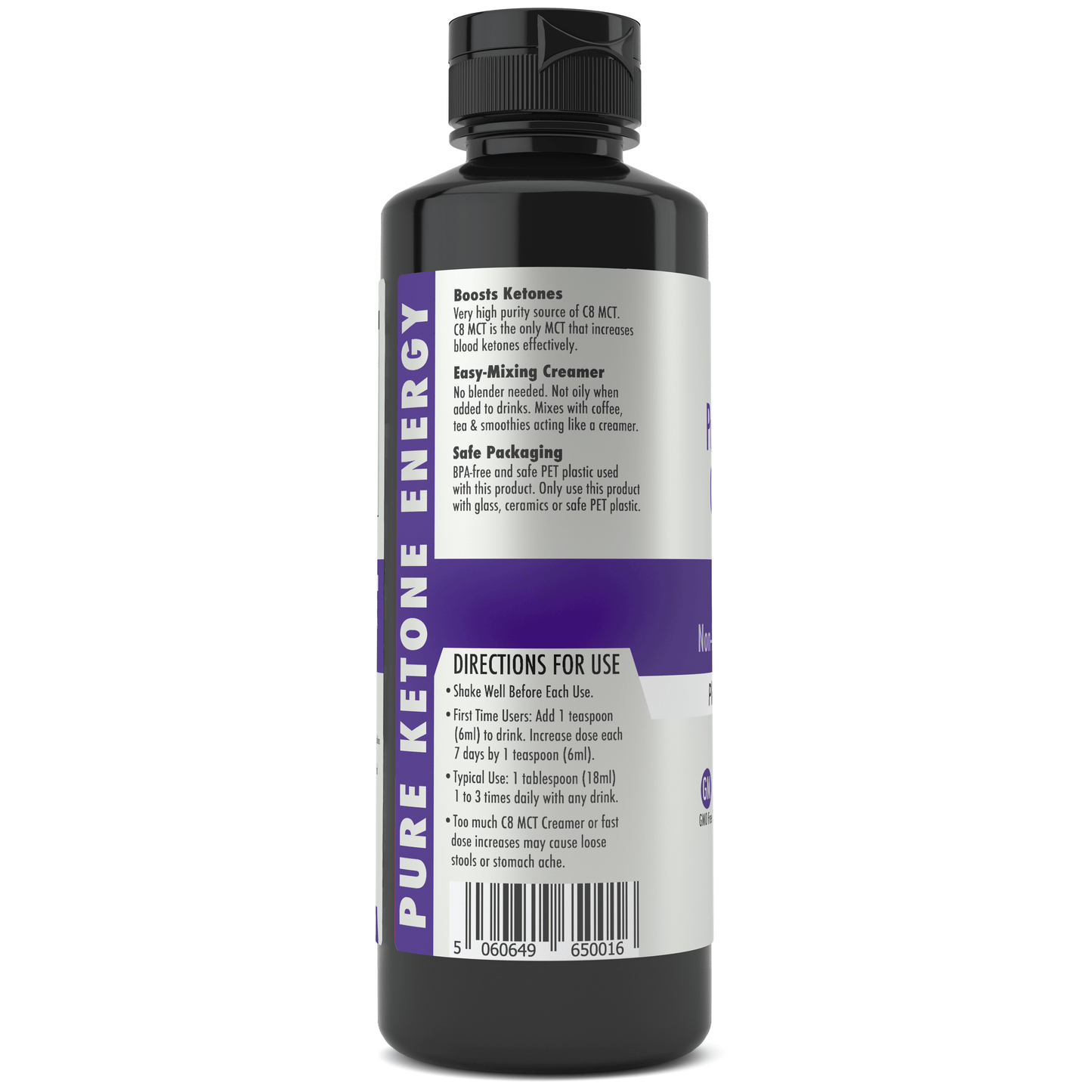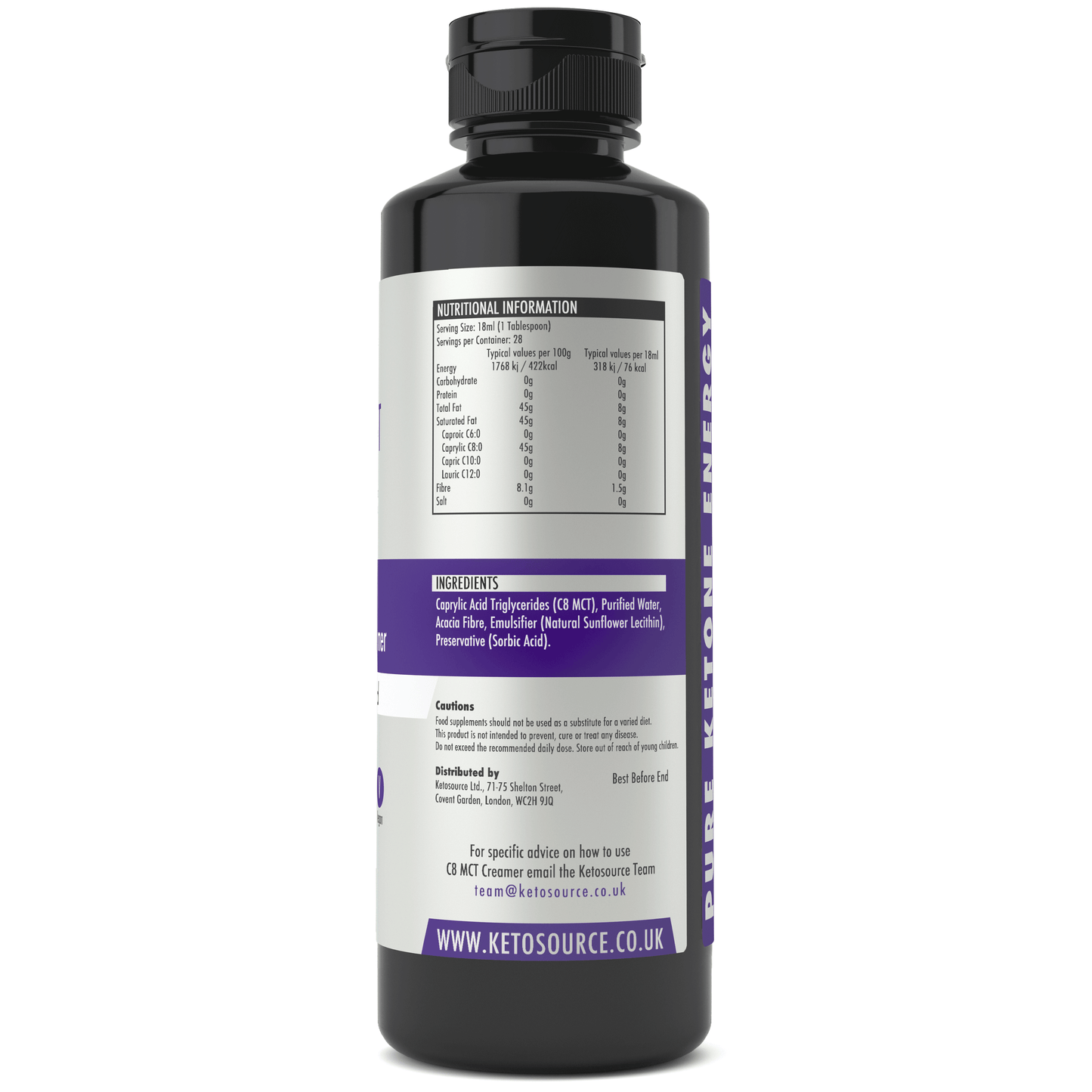 Nutrition & Ingredients
Pure C8 MCT Creamer
Macronutrients Per Serving (18ml)
Net Carbs - 0g
Protein - 0g
Fat - 8g

Safe For
Full Ingredients
Pure C8 MCT Oil, Purified Water, Acacia Fibre, Emulsifier (Natural Sunflower Lecithin), Preservative (Sorbic Acid).

Allergens
Full Nutrition Information
Calories - 76kcal
Total Fat - 8g
Total Carbs - 0g
Total Sugars - 0g
Protein - 0g

NUTRITION FACTS
How to Use Ketosource Pure C8 MCT Coffee Creamer
C8 MCT Creamer is best used as a 'milk', 'cream' or 'butter' replacement for coffee. Adding it to coffee has a very similar effect to milk, creating a latte type effect. See the video below to see how it works.
Some people like to add it to make other drinks creamy and 'ketone boosting' - e.g. tea or smoothies.
It is most used by people in the following situations:
At Work or While Travelling: Used as conveniently carried snack or meal replacements when ketogenic options aren't easily available at work or while travelling.
For a Performance Boost: Before workouts, physical training, or cognitive tasks. Pure C8 MCT Creamer can provide a ketone energy boost that can support and fuel performance.
Note: The flavours added to make the 'lattes' in the video are
Sweetleaf Sweet Drops stevia
. The ones mentioned specifically were the
Caramel latte
,
Mocha (chocolate) latte
, and
vanilla latte
versions.
RECOMMENDED DOSAGE
For optimum results you should use this product as follows:
Add 1 to 2 tablespoons to black coffee, a tea or a smoothie. Ketones take approx. 30 minutes to start to rise, and after this point is reached you should feel more satiated/ less hungry.
For performance situations you may want to load up with Pure C8 MCT Creamer in a drink or smoothie 30 to 60 minutes beforehand depending on your energy needs.
TO AVOID AND REVERSE SIDE EFFECTS
Depending on your gut microbiome, if you overuse this product (e.g. take 3 or more tablespoons in one go) it is possible that you may experience some stomach ache, upset or gas. If this happens, simply reduce your intake to a standard intake (e.g. 1 tablespoon).
Research Supporting Ketosource Pure C8 MCT Coffee Creamer
RELATED RESEARCH
Ketosource C8 MCT Cream contains Pure C8 MCT oil. This is also known as a pure Caprylic Acid Triglycerides product.
See this in-depth
article on Caprylic Acid (C8)
to understand the research and how it works.